Founded in 1995 by brilliant art history PhD, the late Lyn Bolen Warren, Les Yeux du Monde ("The Eyes of the World") is a destination for the best in modern and contemporary art.
Located on a mountaintop just fifteen minutes from downtown Charlottesville, LYDM occupies a corten steel and glass block contemporary structure designed by celebrated architect W.G. Clark with spectacular views of Charlottesville and the Blue Ridge Mountains.
The gallery rotates exhibitions by important regional, national and international contemporary artists, along with modern masters. This includes mounting a biannual Picasso print show in conjunction with the Lydia Csato Gasman Archives, a non-profit research organization for Picasso and Modernist studies that Lyn Bolen Warren co-founded.
For those interested in compelling contemporary art, award-winning modern architecture and breathtaking views of Charlottesville, LYDM is not to be missed.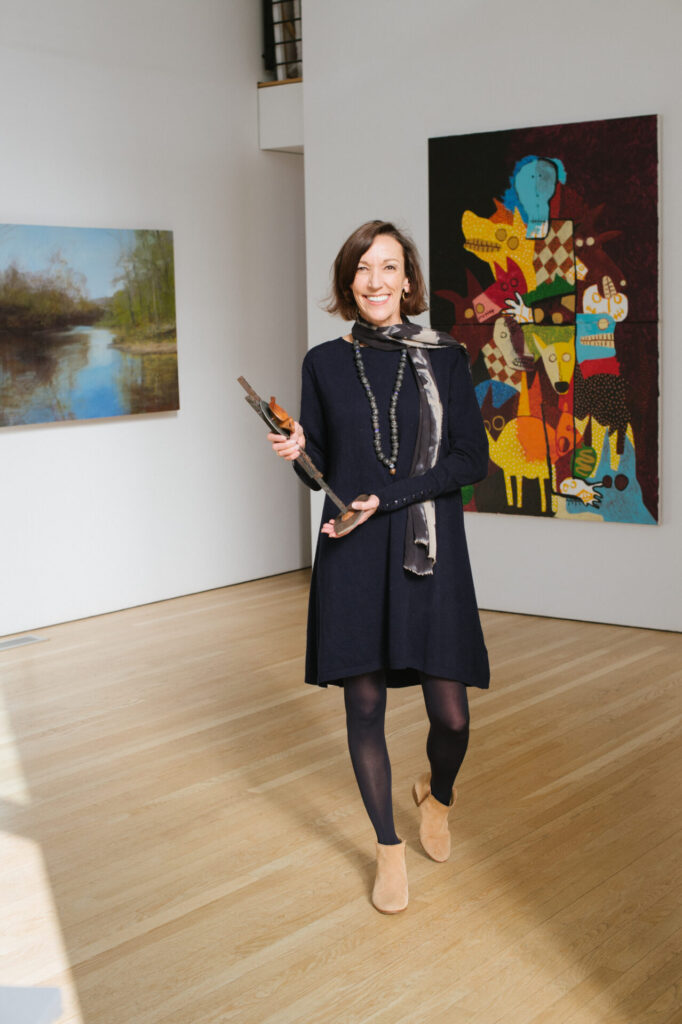 Our Founder, Lyn Bolen Warren
Lyn Bolen Warren transformed the cultural landscape of Charlottesville, Virginia, and the larger Mid-Atlantic over a 30-year period by creating a vibrant context for the exhibition, promotion and appreciation of high-caliber modern and contemporary art. Her generous, open spirit and impeccable credentials fostered her extraordinary ability to communicate, in the most meaningful ways, her belief in visual art as a vital, beneficial aspect of human experience.
Before founding Les Yeux du Monde gallery in 1995, Lyn Bolen Warren earned her Ph.D. in Art History at the University of Virginia in 1994. The syncretic and original nature of her dissertation research on the role and meaning of dance choreography in modern art led to an appointment at UVA's Institute for Advanced Studies in Culture, an honor extended to only a handful of graduate students university-wide. She also curated a widely-admired show on dance in modern art for UVA's art museum, securing loans of artworks from elite global institutions. This was followed by her powerful and internationally acclaimed art exhibition "Hindsight Fore-site: Art for the Millennium" (2000), which juxtaposed provocative contemporary works with important historic sites throughout Virginia and included the publication of a major book of essays.
As the Director of Les Yeux du Monde Gallery, which she founded in 1995, Lyn championed both established and emerging artists, and curated beautiful and compelling shows that united artists and viewers in an exciting exchange of ideas that reverberated throughout the greater cultural community. Begun on the walls of her mountaintop home, the gallery migrated to multiple different locations in downtown Charlottesville before returning to its original location on the mountaintop, this time into a structure she built in collaboration with W. G. Clark.
Lyn's graduate school advisor and mentor, the legendary Picasso scholar, Lydia Gasman, taught that modern art should be understood as a quest for a new form of the sacred that has relevance in our contemporary lives. As an art historian and gallerist, Lyn promoted that idea by exhibiting and writing about art that could have a transformational impact on both viewers and culture. She also co-founded the Lydia Csato Gasman Archives for Picasso and Modernist Studies to preserve and disseminate the work of her esteemed mentor, hosting biannual Picasso shows and galas at LYDM to further that cause and solidify Charlottesville as an epicenter for the arts.
Lyn viewed modern and contemporary art as a way to understand the time in which we live. She asserted that the work of contemporary artists gives visual form to the nature, structure, and rhythms of how we live our lives, so we relate to it in an immediate and visceral way, and that this work has a unique capacity to clarify, offer insight, and often instill hope for the world as a result. Lyn's profound knowledge of both contemporary art as well as the art of the past also enabled her to ground a work of art in the framework of the cultural traditions that have shaped it, recognizing continuities and changes mirroring cultural and societal development that offer us a better understanding of who we are as human beings. The history of art is a lens on the history of the world — if we understand it, we understand ourselves — and how to make the future possibly better.
LYDM Looking Forward
Today, Les Yeux du Monde is carried forward by Lyn Bolen Warren's daughter, Hagan Tampellini. Mounting a new exhibition every other month, the gallery continues to show work by important established and emerging contemporary artists, along with modern masters. LYDM maintains the integrity of its founder's vision by showing high-caliber, visually compelling and meaningful art with an emphasis on art historical significance.
To learn more about the gallery building and the architect who designed it to go to the "Our Space" page.