Surrealities: The Art of Ed Haddaway and Russ Warren
January 26, 2019

-

March 10, 2019
ED HADDAWAY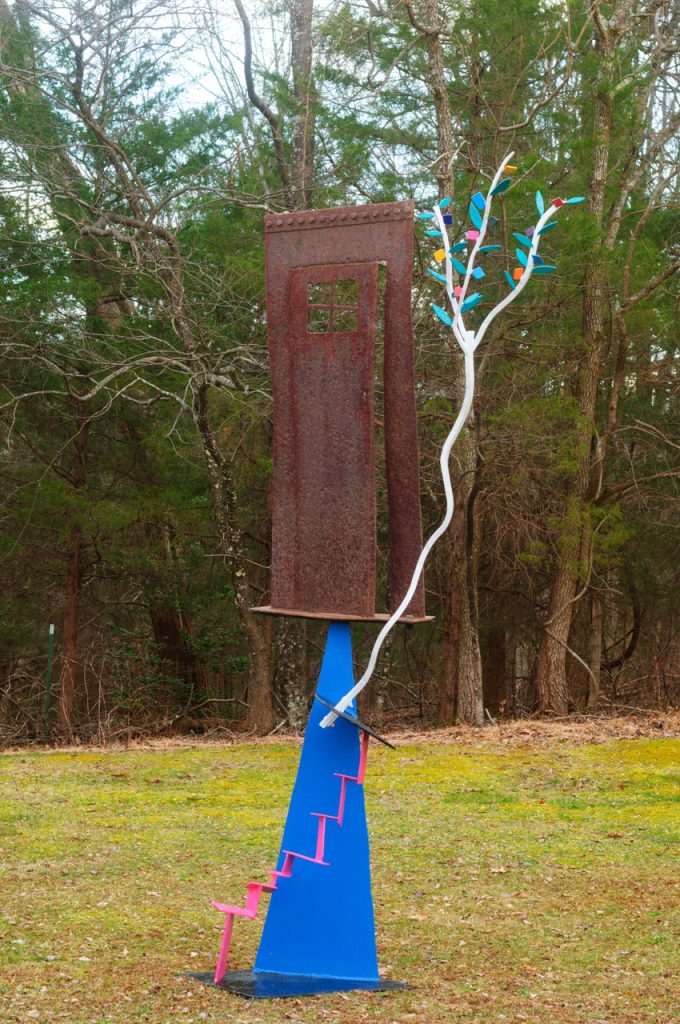 Ed Haddaway, From A Series Of Recurring Dreams, 1998. Painted/rusted steel. 11 x 6 x 4 feet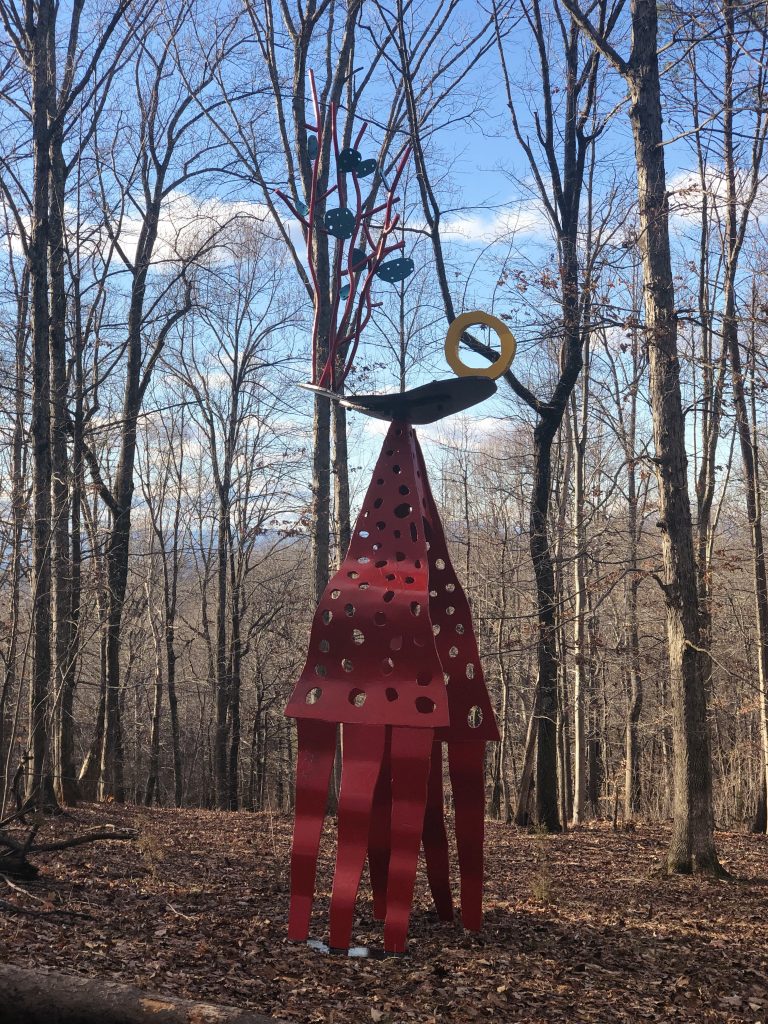 From the House Where the Would Be Shadow Lives, 2013. Painted Steel, 20 x 5 x 5 feet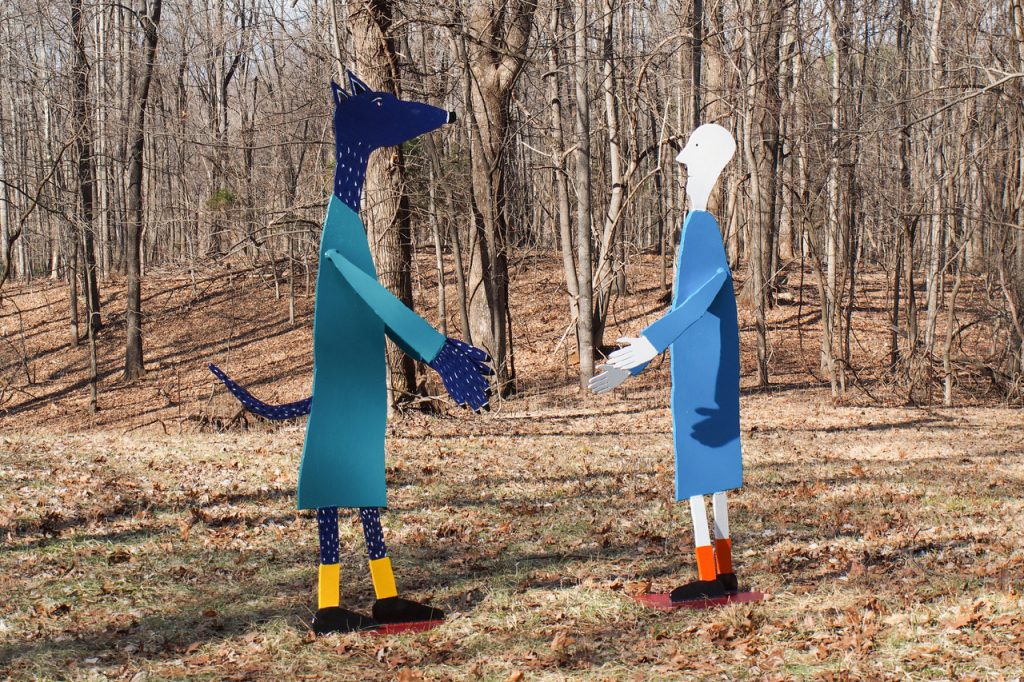 Meeting Mr. Wolf, 2013. Painted steel, 7 x 4 x 2 feet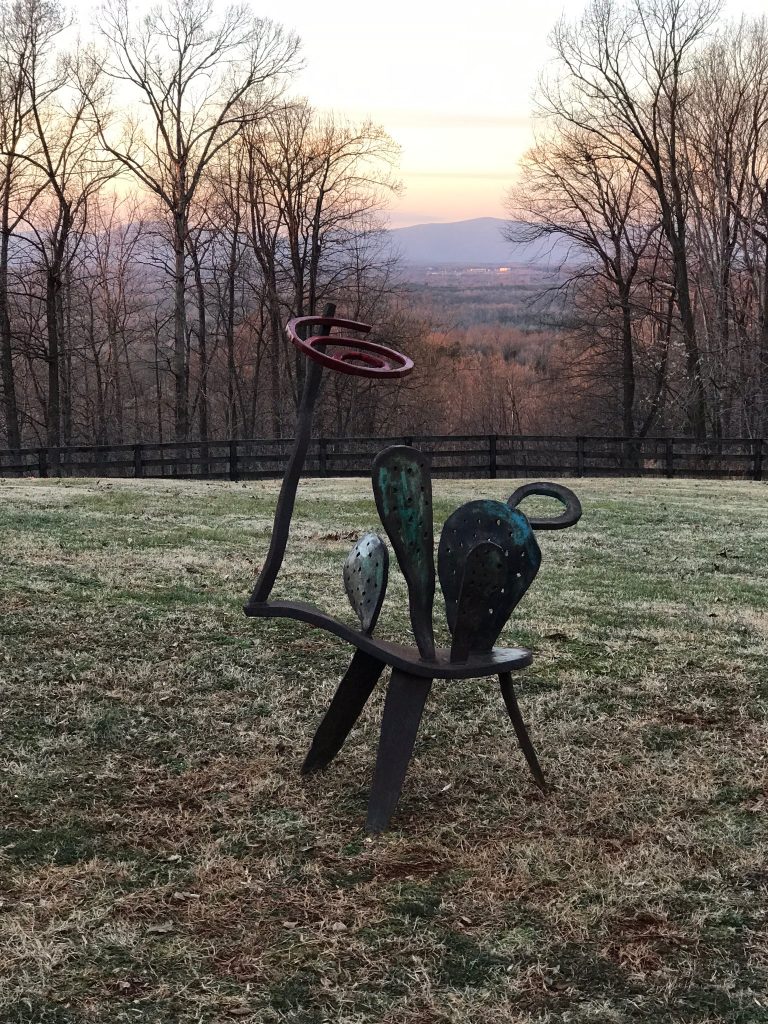 With the Noisy and Amusing Absurd. Painted and rusted steel, 53 x 42 x 21"
To see more work by Ed Haddaway, click here.
RUSS WARREN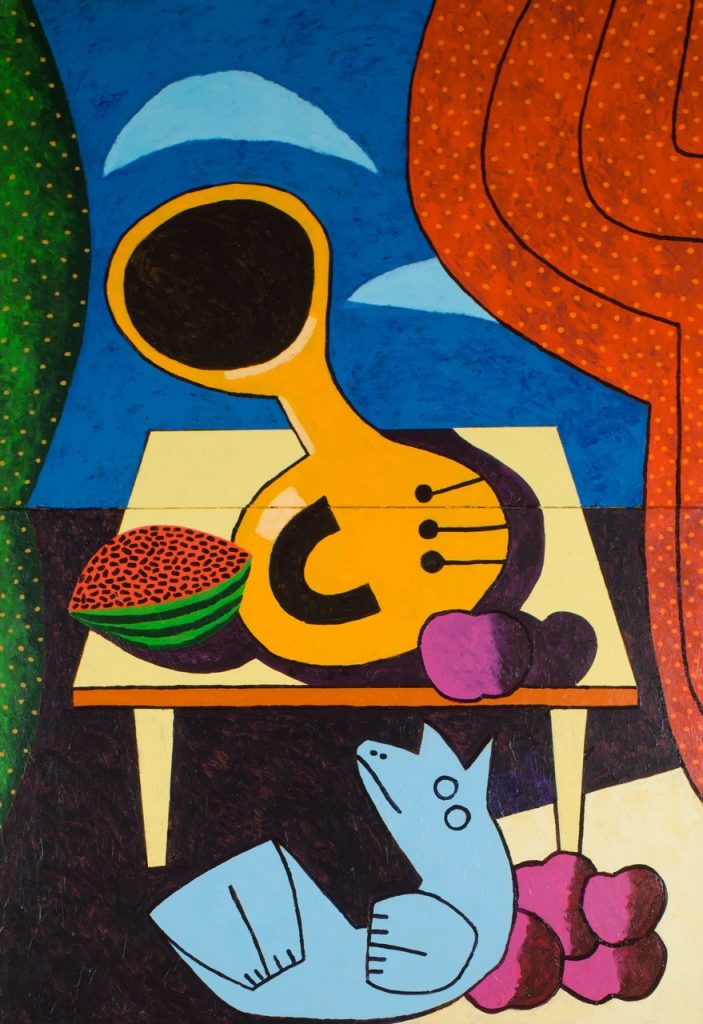 Russ Warren, Horn Concerto #4 in E Flat Major, 2018. Acrylic on canvas, 72 x 48″ (diptych)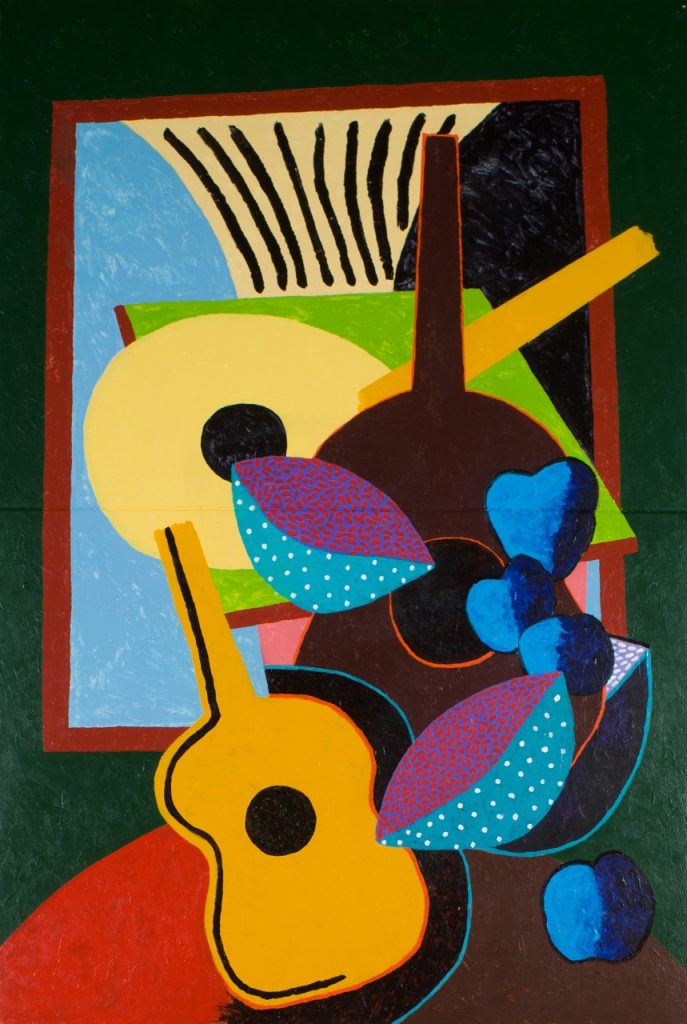 Still Life with Melons, 2018. Acrylic on canvas, diptych, 72 x 48 inches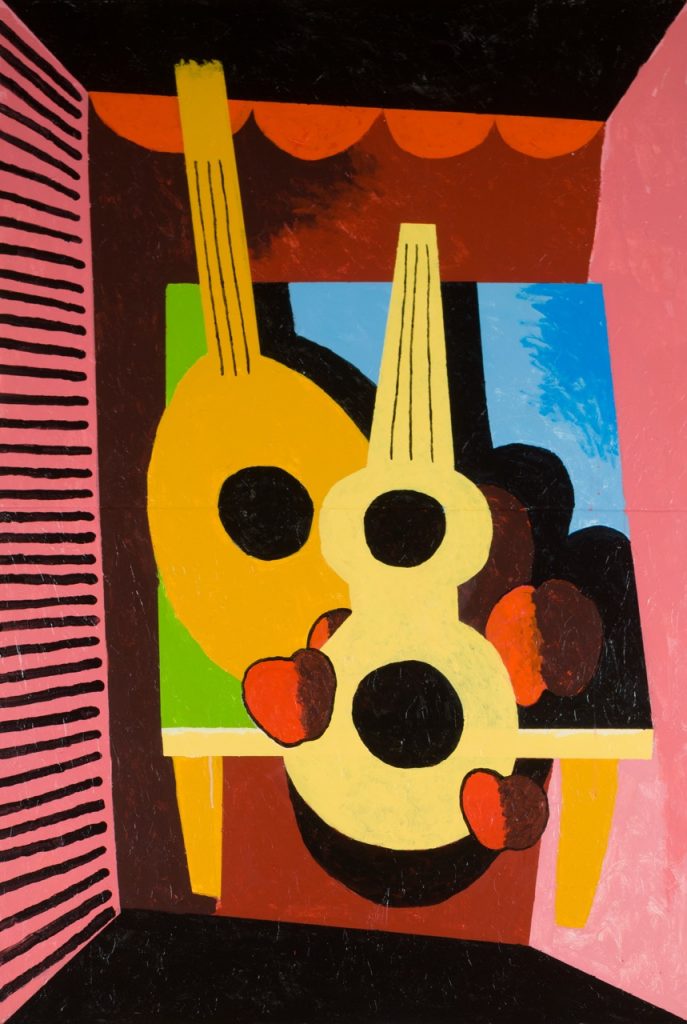 Still Life with Guitars, 2018. Acrylic on canvas, diptych, 72 x 48 inches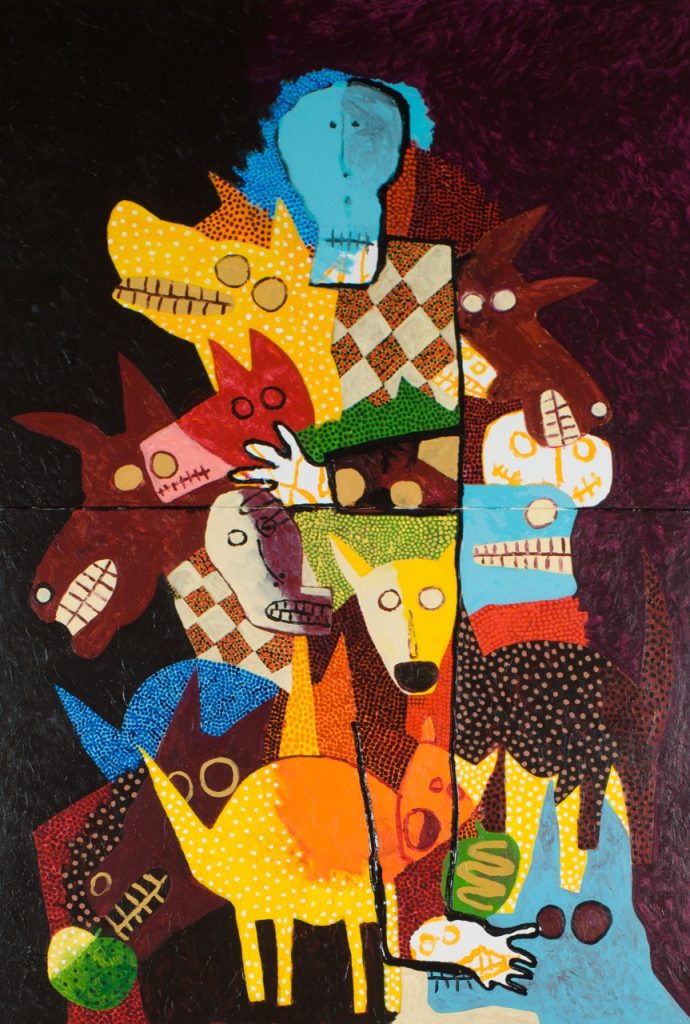 The Ready Jester, 2018. Acrylic on canvas, diptych, 72 x 48 inches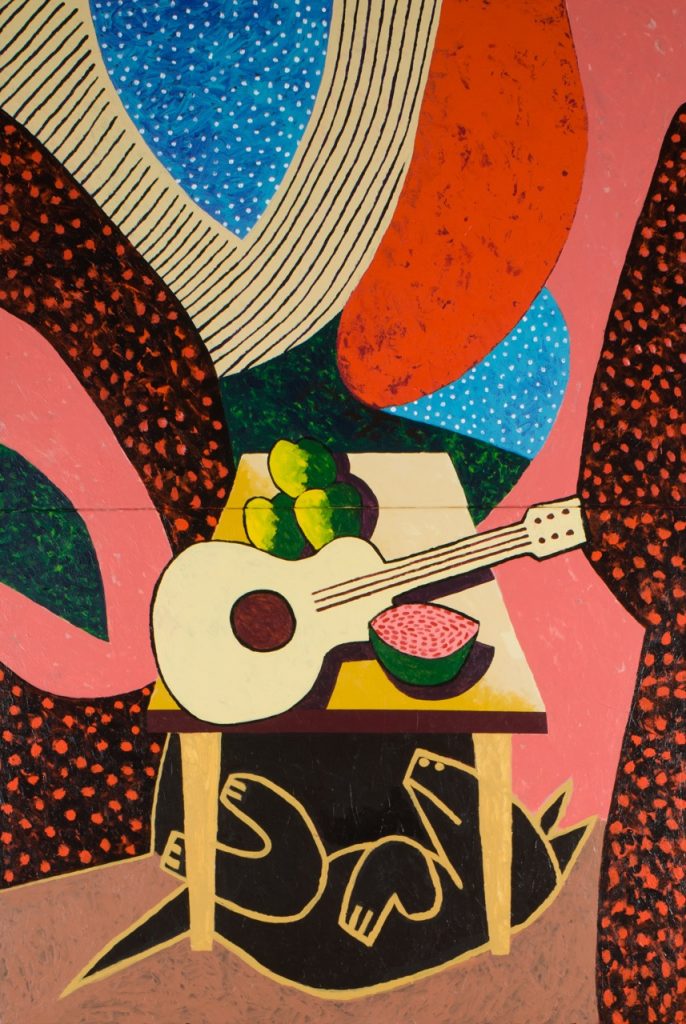 Still Life with Curtains, 2018. Acrylic on canvas, diptych, 72 x 48 inches
For the first show of 2019, Les Yeux du Monde is bringing together sculpture by Ed Haddaway and painting by Russ Warren, artists who last worked together in the early 1970s at the University of New Mexico. Both artists went their separate ways after that, Haddaway having great success in Albuquerque New Mexico, placing his over life—sized sculptural creations in central public places from coast to coast and Warren, teaching at Davidson College in NC and exhibiting widely. Randomly looking up the "only personhe remembered (and admired) from his college days"in a massive alumni directory several years ago when Warren was doing a post card campaign (in mock protest of solely email correspondence), he found and wrote Ed Haddaway, who responded and the two reconnected. In spite of the distance in years and geography, their art has many parallels. They both combine forms and scenarios from the imagination and reality and thus hint at another world or underlying deeper reality beyond the mainstream.  They combine vegetal, animal, human and abstract or architectural elements, creating surprising juxtapositions and drama and hinting at other realities or "Surrealities."Similar to the original artists and writers of the Surrealist movement in art and literature in the 1920s they favor the irrational over the solely rational, opting for a magical, dream-like or humorous alternative.
Haddaway, based in Albuquerque, has received many awards including three from the National Endowment for the Arts, and has been covered by national magazines such as Art in America and ArtNews and most recently Vasari21. His sculpture resides in important public and private collections and museums from coast to coast, and he will be represented in the 2019 Venice Biennale. Warren resides and works in Charlottesville, after teaching art for 30 years at Davidson College, while also showing in museum exhibitions nationally and internationally such as the Whitney Biennial and the Venice Biennale and has also been covered in major publications and books by critics such as Roberta Smith, Donald Kuspit and Barry Schwabsky.