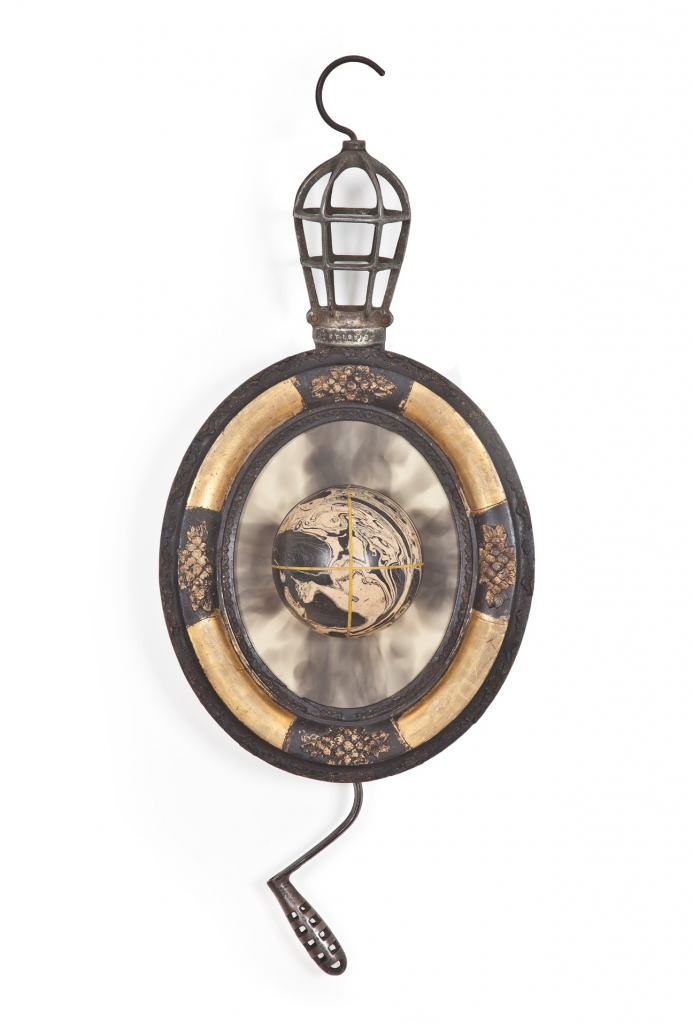 Continent of Desire, 2009.
Found objects and smoke on rag paper, 13 x 13 x 7″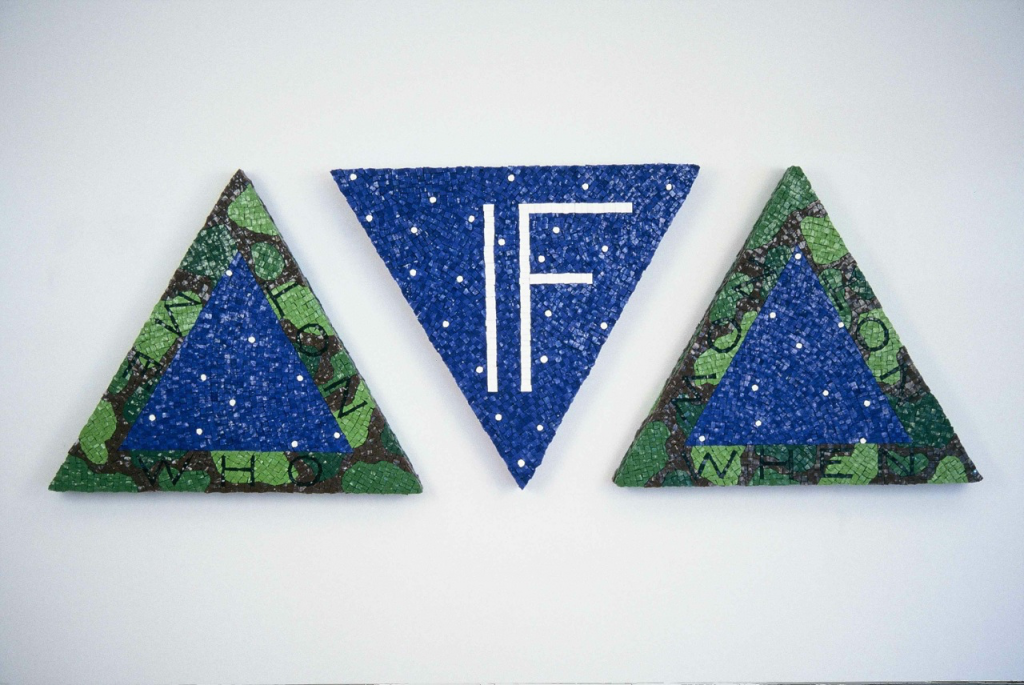 Big If, 1994.
Italian smalti on wood, 20.75 x 55 x 3″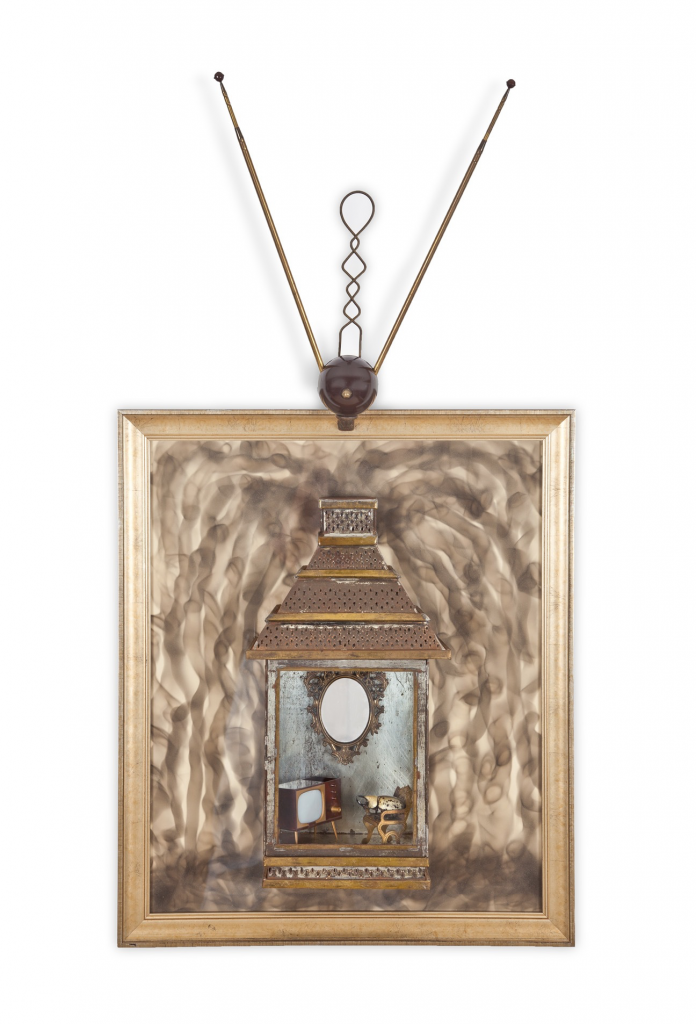 Gregor Changes Channels, 2009.
Found objects and smoke on rag paper, 43 x 23 x 7″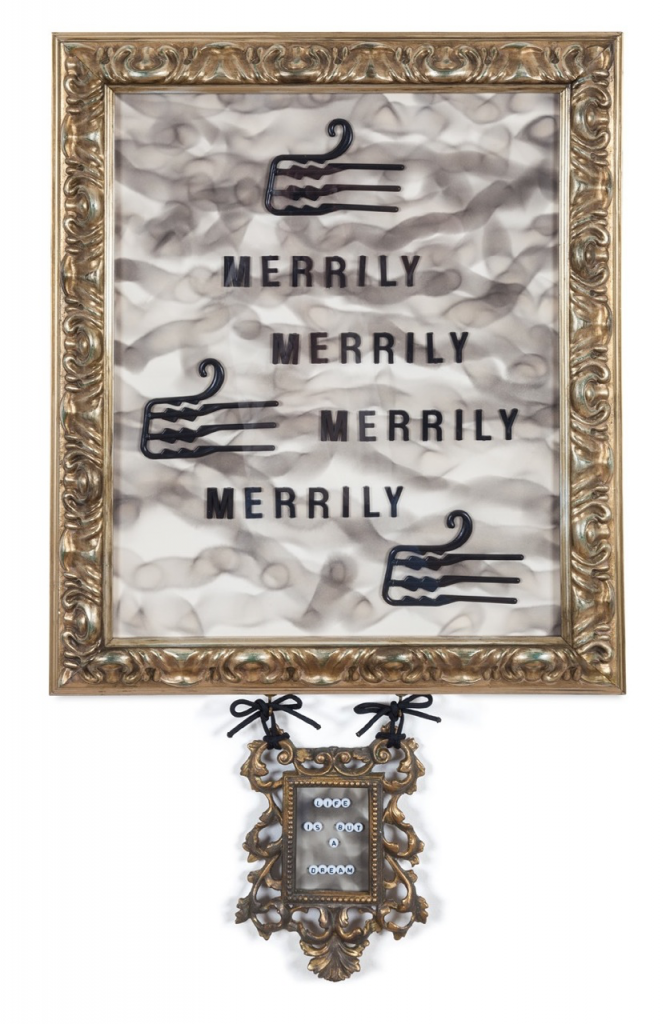 Merrily Merrily, 2013.
Found objects and smoke on rag paper, 31 x 17.5 x 2″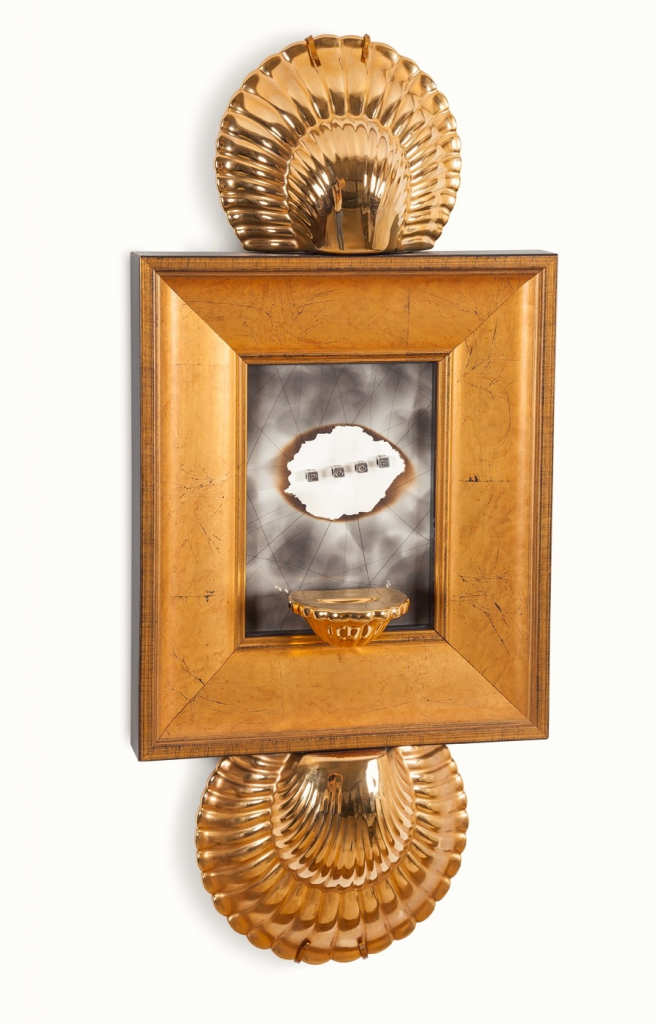 Little Poof: Meditation on Impermanence, 2013.
Found objects and smoke on rag paper, 23 x 10 x 3″
Element Scale, 2000.
Found objects and stained glass, 33 x 7.5 x 3″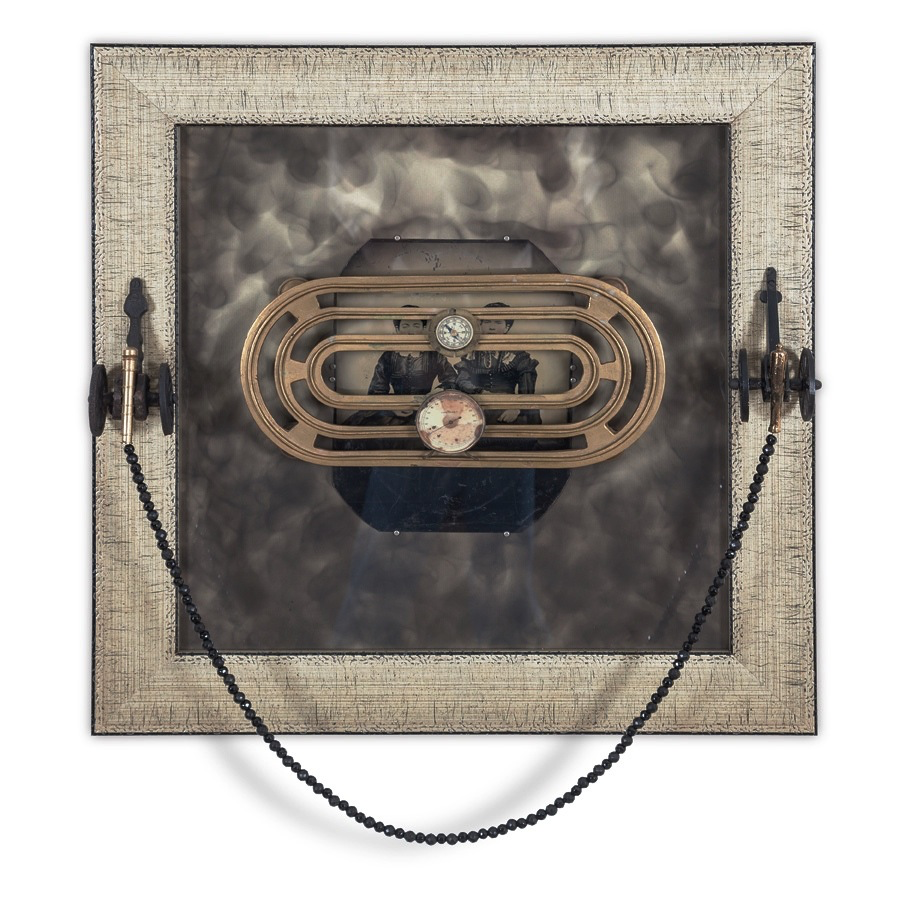 Widows' Beads: North/South Meditation, 2014.
Found objects and smoke on rag paper, 22 x 20 x 4″
Susan Bacik was born in Minneapolis and grew up in its western suburbs. She was sent to traditional Catholic schools, while also experiencing the rock-and-roll modernity of the 1960s, and she began making art, drawing from both of these sources. After studying art at the University of Minnesota, she went on to an influential year at Pendle Hill, a Quaker study center outside of Philadelphia. There she studied with George Willoughby, a long-time Quaker anti-war activist, and with Maurice Friedman, the noted Martin Buber scholar.
In 1976, Bacik began working in television as a writer-producer for Twin Cities public station KTCA-TV, creating documentary films on Minnesota artists. She was also the on-air host and field producer of their weekly half-hour series on the arts, Art Works, later called Wyld Ryce.
While working at KTCA-TV, Bacik continued to make art, and in 1978 joined WARM Gallery, a nationally known, long-running, feminist collective in Minneapolis, as an exhibiting member. In the following years, she formed close ties with the artist Hazel Belvo, one of WARM's founders, and the artist George Morrison, on whom she had produced a documentary film. She counts among her influences Joseph Cornell; Louise Bourgeois, whom Bacik visited in Bourgeois's Brooklyn studio in 1994; and the late films of Andrei Tarkovsky.
Bacik moved to London in 1986, where she lived for six years, taking up her studio practice full time. During this period, she traveled often to Europe, and particularly to Italy. There, she reconnected with traditional depictions of conversions and transformations of the spirit, giving them contemporary interpretations in her work. As far back as her time at Pendle Hill, Bacik was exposed to Buddhist ideas. These ideas, as well as scientific explorations of the nature of the universe, have also served as spiritual and cultural touchstones
In 1992, Bacik moved to Charlottesville, Virginia, where she now lives with her husband Andrew Wyndham.
Of Susan Bacik's work, American art historian Marjorie Balge Crozier has written that, "Few contemporary artists deal as successfully as Bacik with …Intangible issues of the spirit. Clearly, she is a master of the art of assemblage." English critic Peter Blundell-Jones has called her work "…intellectual… powerfully ironic in implication." Daily Progress critic Ruth Latter has written that Bacik's work is "…awesome…worthy of New York's Museum of Modern Art." Jill Hartz, Director of the Schnitzer Museum at the University of Oregon, describes Bacik's sculpture as "…among the best I've seen in Virginia or anywhere else."
In 2015, Les Yeux du Monde Gallery and Second Street Gallery presented a 25-year survey of Bacik's work. In addition to this two-venue show, Bacik's selected exhibitions include the Minnesota Museum of Art, St. Paul; numerous group and solo exhibitions at WARM Gallery, Minneapolis; and General Mills World Headquarters Gallery, Minneapolis. She represented the U.S. in a four-person international exhibition at the Leighton House Museum in London, England, and has shown at the Knapp Gallery, also in London. Among her Virginia exhibitions are the University of Virginia Law Library, Charlottesville; Second Street Gallery, Charlottesville; and solo and group shows at Les Yeux du Monde Gallery, also in Charlottesville. She was the subject of a major one-person show at the University of Virginia Art Museum that was presented in conjunction with UVA's historic Nobel Peace Laureates Conference. She was represented in the national exhibition, Hindsight/Fore-site: Art for the New Millennium, with a sculpture installed on the grounds of Ashlawn-Highland, home of 5th U.S. President James Monroe.
Bacik's work is in private collections in England, Germany, Belgium, Canada, and the U.S., as well as in public collections ranging from the Minnesota Department of Transportation, to the American School in London, to Martha Jefferson Hospital in Charlottesville, and The Fralin Museum of Art at the University of Virginia.
On Constructed Meditations on view at Les Yeux du Monde and Second Street Gallery, March 2015
The works in this two-venue exhibition survey three phases of Susan Bacik's work over 25 years: mosaics from the Camouflage series, found object sculpture from the Scales and Oracles series, and found objects with smoke from her newest Smoke Poems series. Themes of memory, mystery, and transformation are explored in these series.
These works reflect many influences: the Catholic iconography of Bacik's childhood; the exploration of Buddhist concepts of Impermanence, Emptiness and Karma; and emerging parallels between scientific and spiritual understanding. The combination of words and found objects throughout all the series reflect the artists's desire to move us through "the poetry of objects and the physicality of words".