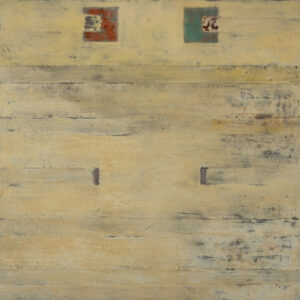 Contented Rejoicing, 2019. Beeswax and pigment, 36 x 36″, beeswax and pigment, 2019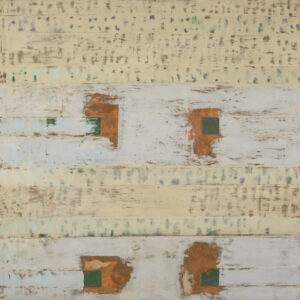 Gentle Approach, 2019. Beeswax and pigment, 36 x 36″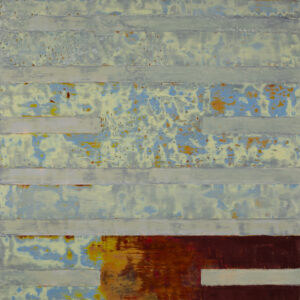 Anticipatory Crouching, 2019. Beeswax and pigment, 36 x 36″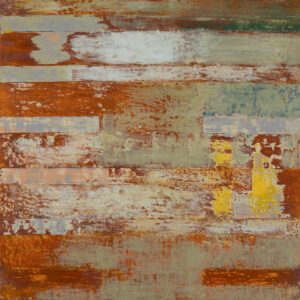 Reappearance, 2019. Beeswax and pigment, 36″ x 36″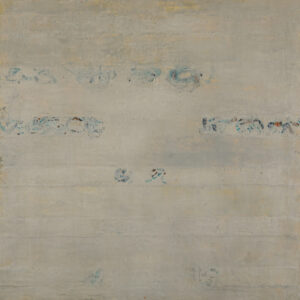 Miniature Weightiness, 2019. Beeswax and pigment, 36 x 36″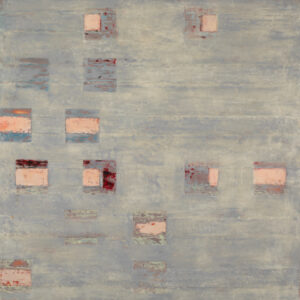 Vanishing Remorse, 2019. Beeswax and pigment, 36 x 36″
More of Saunders' works from previous exhibitions may be viewed here. 
Visions for 2016
Janet Bruce, J. M. Henry, Deborah Kahn, Martha Saunders
22 January – 6 March
Opening Gallery
Friday, 29 January, 5:00 – 7:00 p.m.
Martha Saunders
Intersecting Pauses
26 August – 3 October 2011
Opening Preview
Friday, August 26, 3-5 pm
With brief remarks by the artist at 4 pm
Reception with the Artist
Friday, September 9, 5:30 – 7:30 pm
Gallery Talk by the Artist
Sunday, September 11, 3 pm
Martha Saunders | Oscillating Vistas
Exhibition dates | Upper gallery
1 September – 14 October 2006
11–5, Tuesday – Saturday
Opening
1 September. 5:30 – 7:30 pm
Martha Saunders. Suspended Sites V & VI (detail), 2005.
Encaustic and mixed media on wood panels
Biography
Martha Saunders' current works, Oscillating Vistas, ten 4' x 4' encaustic paintings, and related smaller pieces, draw inspiration from the experience of walking and how it shapes our thoughts. The harmony of walking and thinking has a long history traceable back to Socrates, Wordsworth, and Thoreau. The rhythmic movement of the body seems to facilitate the flow of ideas connecting the physical present and the knowledge and sensations dormant in our memories. Conceived serially and hung either singly or in abutted pairs and threes, sometimes in their original order, sometimes rearranged, Saunders works evoke a panorama of shifting vistas, as well asthe mind's continual shift in attention from the outside world to the already known.
A recurring horizon line that feeds through the images rather like a path lends continuity through the series. The horizon serves as a metaphor for the contingency of definition, and the convergences of meaning. Thoughit represents the limit of our vision, the horizon is never fixed, butalways defined by the position of the body, and always unobtainable. Thejunction of sky and earth, it suggests as well the meeting of the materialand spiritual, the body and the intellect. Saunders brings all these possibilities to play in her paintings. Small photo transfers and drawings embedded in the thick encaustic surface evoke the glimpses of landscape thatwhile walking spark new ideas and refashion the old.
Oscillating Vistas are an outgrowth of Saunders previous installation, Mind Skin, a randomly arranged continuous panel of 12" x 12" beeswax tiles, drawn on , sculpted, and encasing faint drawings andephemera. Hung horizontally around an entire room the work suggested the physicality and constant reshaping and reconnecting of thought. In both sets of work, Saunders floats an occasional grid of dots lightly over the waxy surfaces. Like specks on the underside of one's eyelids, they suggest discreet thought waiting to coalesce. If in Mind Skin, Saunders points to the mind as integral to the body, in her current work she reveals the interconnectedness of not only body and mind, but both in motion within an also palpable terrain.
My intent for these paintings is to play with notions of stability and transitions.  Closed, symmetrical squares divided with six open and closed bars are a reoccurring format.   Shifting surfaces, shapes, veils of translucent color and relief surfaces, built with beeswax and pigment, counter the minimalistic composition inserting movement and change.
These paintings are part of a series which begin with appropriation of two hexagrams from the I Ching (The Book of Changes), an ancient Chinese divination text. The sixty-four hexagrams in this text represent transitional stages between heaven and earth, reflecting how transitions from one phenomenon to another is continually taking place in the physical world.