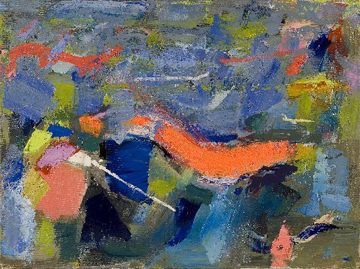 Anthropomorphic Brushstrokes I, 2009
Mixed media on canvas 18 x 24″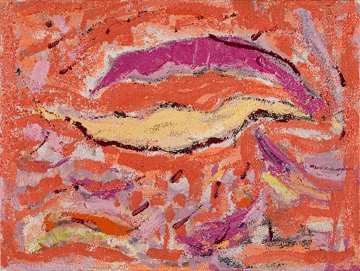 Anthropomorphic Brushstrokes II, 2009
Mixed media on canvas 18 x 24″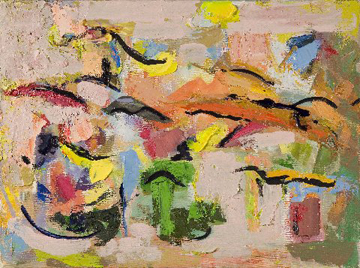 Anthropomorphic Brushstrokes V, 2009
Mixed media on canvas
18 x 24″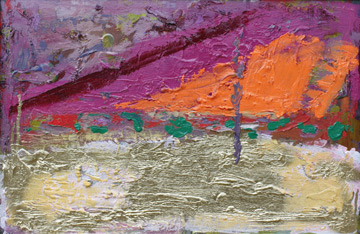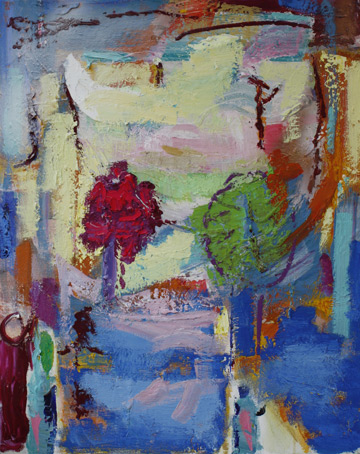 Landscape as Home II, 2009. Mixed media on canvas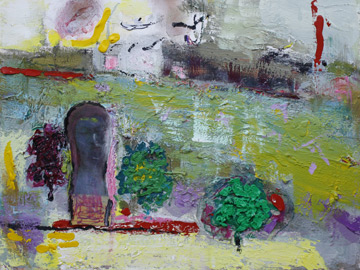 Landscape as Home III, 2009
Mixed media on canvas
18 x 24″
The Angel of History
4 February-27 February 2000
Directions
5 February – 1 March 2003
Homes of the Homeless
1 February to 1 March 2008
Exhibition page >
Philosophers and Painters
22 January – 7 March 2010
Exhibition page >
Biography
Professor Lydia Gasman was a brilliant and internationally famous art historian, renowned Picasso scholar, sublime painter and inspiration to countless writers, scholars, artists, and philosophers.
Born in Focsani, Romania, she received her degree in Humanities and Law from the University of Bucharest in 1948 and a degree from the Academy of Fine Arts in Bucharest in 1953. She quickly rose to become one of the most celebrated painters in Romania and as an outstanding member of the Union of the Artists was awarded use of one of the best studios in Bucharest by the Communist Government which decreed the policy of Socialist Realism in the arts. Many of her paintings won awards and were acquired by the Fine Arts Museum in Bucharest and other governmental institutions.
Unsympathetic to the Communist regime, she was able to arrange a harrowing and clandestine escape from Romania in 1961 and was reunited with other members of her family who had migrated years earlier to Israel. Now free to travel to Paris, she was able to study Modernist Art intimately for the first time and was especially captivated by the work of Pablo Picasso.
Her life, the stuff of legend, she met her future husband, the American historian of science, Daniel Gasman, in a chance encounter on the Acropolis in 1962 and they were married the following year and Lydia migrated to New York. She enrolled in the graduate history of art program at Columbia University and was especially influenced by the work of the famous art historian Meyer Shapiro.
Her groundbreaking Ph.D. dissertation, Mystery, Magic, and Love in Picasso: Picasso and the Surrealist Poets, 1925-1938 was an enormous four volume work which revolutionized the study of Picasso and was reverentially reviewed in The New York Review of Books by the Picasso biographer, John Richardson. Her dissertation in countless ways became the foundation for the study of Picasso up until the present time. Between 1968 and 1972, Professor Gasman taught art history at Vassar College and between 1972 and 1975 at the University of Haifa, Israel. In 1981 she joined the art history faculty at the University of Virginia until her retirement in 2001.
At UVA, Professor Gasman's passionate lectures became legendary and her classes were year after year the most sought after, filled to overcapacity by hundreds of students. Fluent in five languages– Romanian, German, French, Hebrew, and English — and with a reading knowledge of at least two or three more — she was always on the cutting edge of art history and international Picasso scholarship. Her writings and lectures synthesized a vast erudition in the history of art, religion, philosophy, and critical theory into a relevant and enlightening whole. A path breaking essay, 'Death Falling From the Sky: Picasso's Wartime Writings' was published in catalogue for the exhibition Picasso and the War Years at the Guggenheim Museum in 1998 and she was featured in the 2002 film of John Richardson, Picasso: Magic, Sex, and Death. In her latest book, published in 2006, War and the Cosmos in Picasso's Texts, 1936-1940, she demonstrated that she could crack the code of Picasso's cryptic texts, an almost superhuman task that no other scholar had seriously attempted.
Professor Gasman's life, work, and art was informed by a deep dedication to the humanistic tradition and to an unfailing quest for moral certitude, shaped largely by her existential experiences during World War II in Romania and later by her life in Israel. Her brother, Yoash Tsiddon and his family of Tel Aviv Israel, and her husband, Daniel Gasman of New York City, survive Professor Gasman
Born in Romania
Moved to the United States in 1963
Education
1964-68, 1979-80 Columbia University
1950-53 Academy of Arts, Bucharest
1944-48 University of Bucharest, Rumania
Languages
Fluent in French, German, Italian, Rumanian, Hebrew.
Reading knowledge of Spanish, Italian, and Latin.
Awards
Noble Foundation Fellowship, Columbia University, 1966-1967; 1967-1968.
Woodbridge Fellow, Columbia University, 1968-1969. Awarded to the best student in art history.
Kress Fellowship, 1969-1970.
Degrees
University of Bucharest: License: in Humanities and Law. Degree granted with highest honors, 1948.
Columbia University, M.A., 1966. Topic: Romantic Aspects in the Work of Paul Huet.
Columbia University, Ph.D., 1981. Topic: Mystery, Magic, and Love in Picasso, 1925-1938: Picasso and the Surrealist Poets.