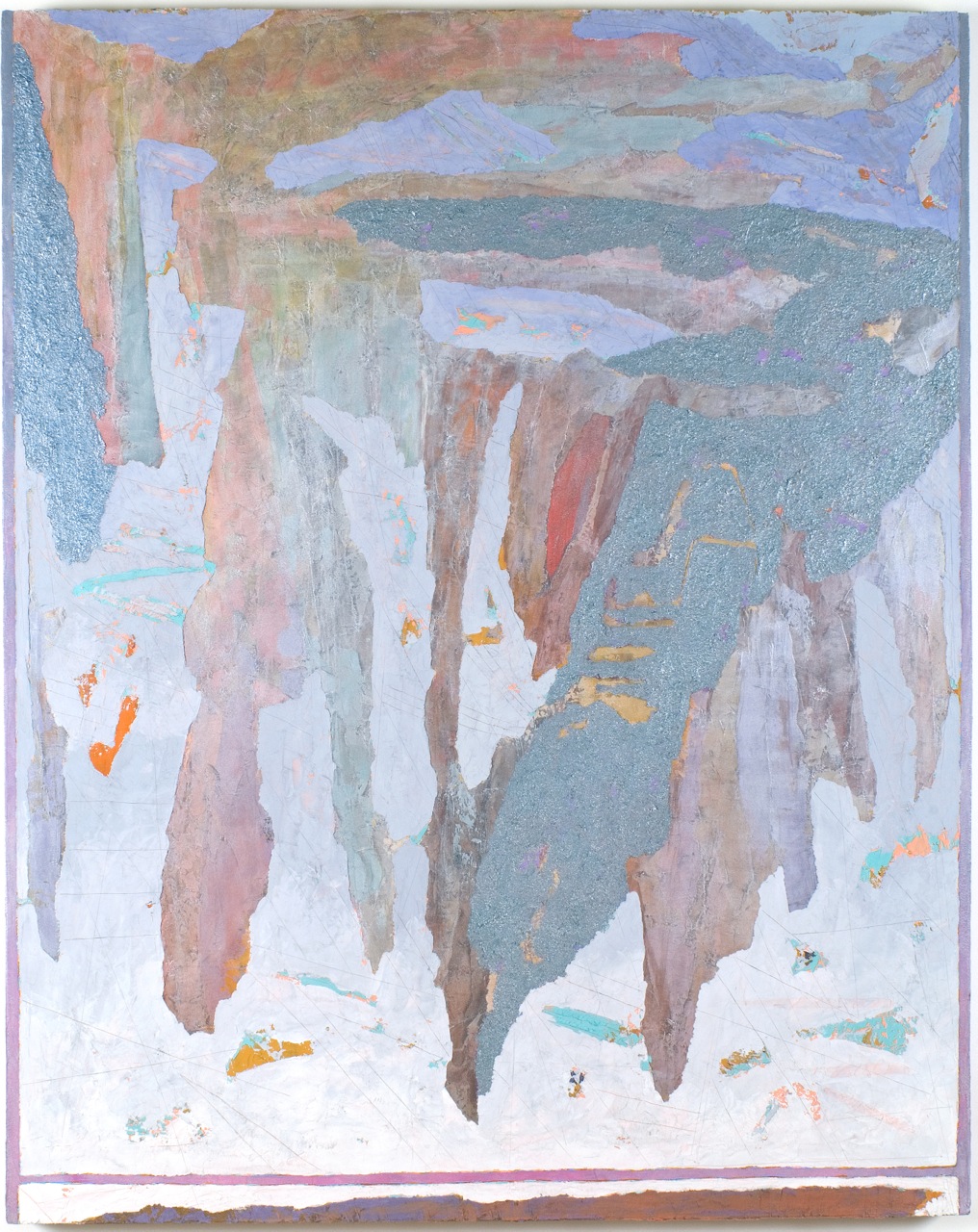 Veronica's Veil CCIX, 2015. Acrylic on canvas, 60 x 48″ Sold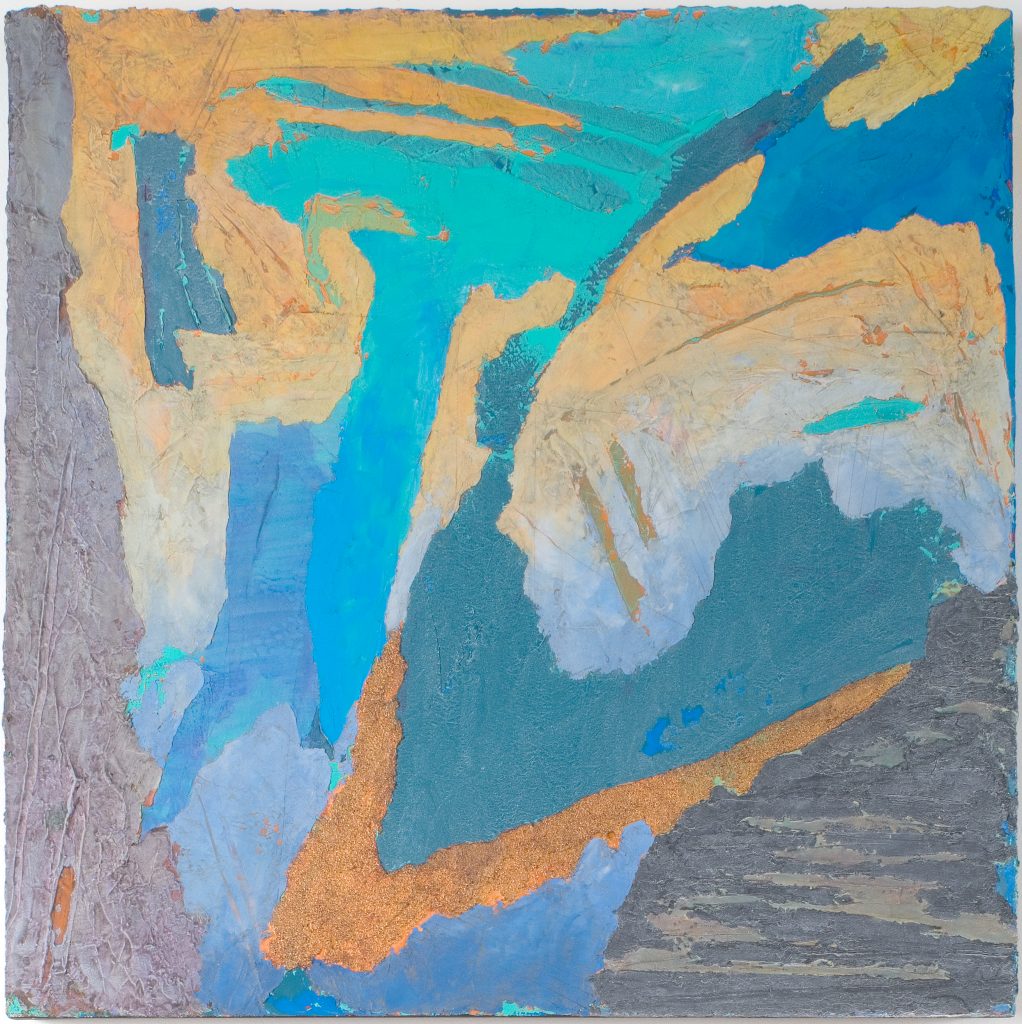 River Rising, 2006. Acrylic on canvas, 24 x 24″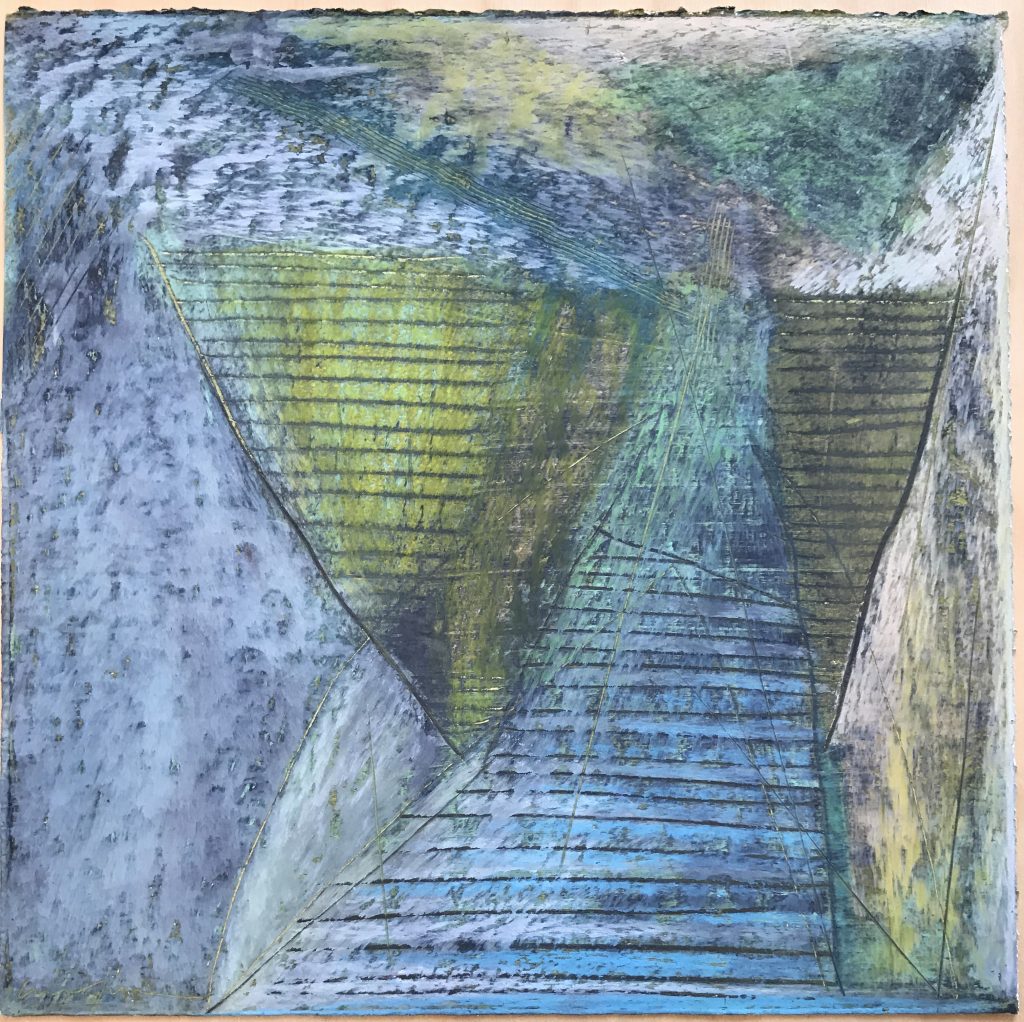 P 1257, 1998. 11 x 11″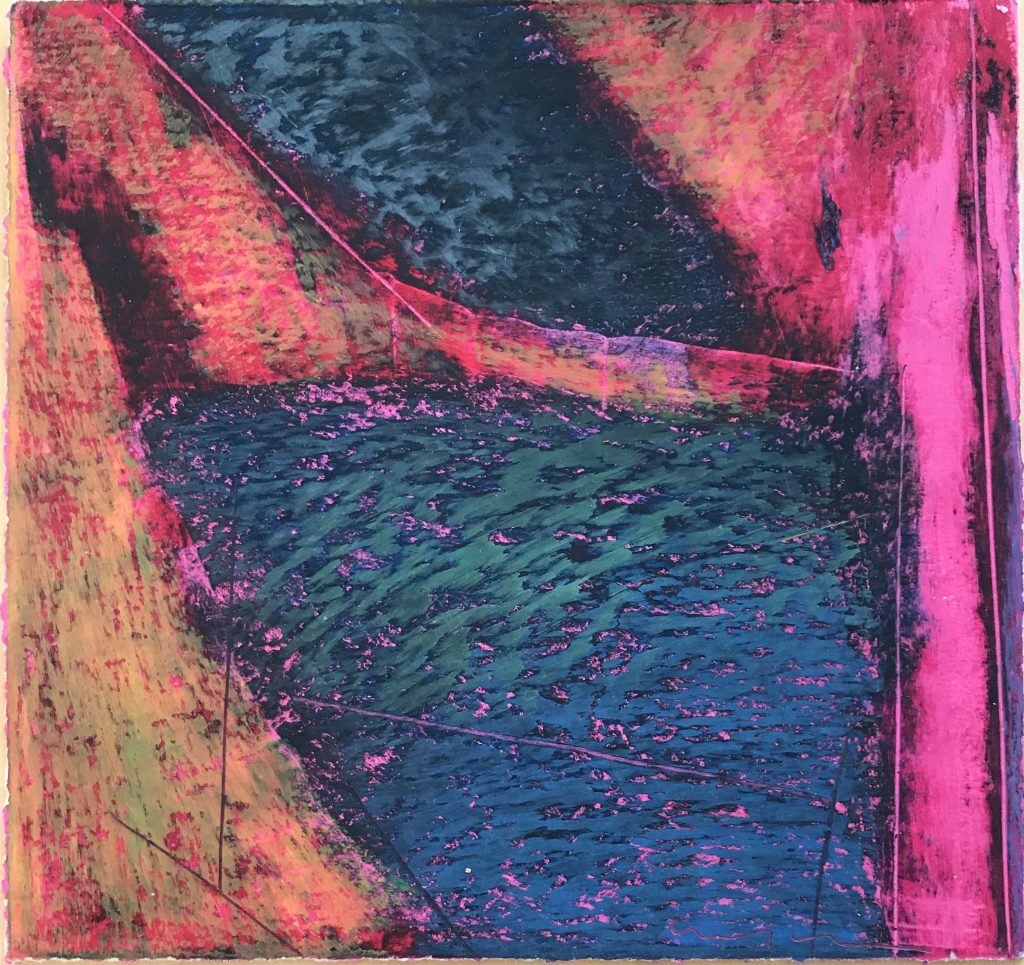 P 988, 1997. Oil crayon on paper, 8 x 8″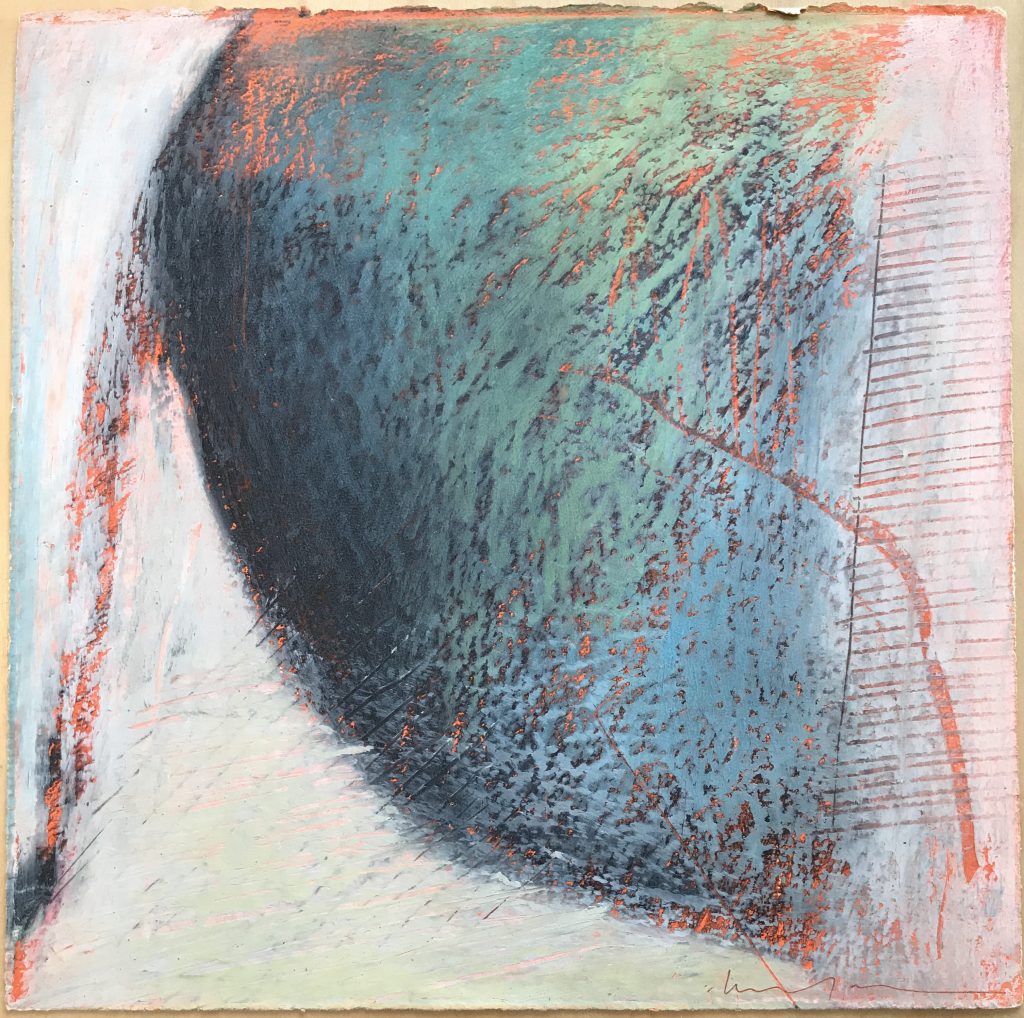 P 669, 1995. Oil crayon on paper, 9.5 x 9.5″
New Paintings
Herb Jackson
25 September – 25 October 2015
Exhibition page >
Small Paintings and Drawings from the Adriatic
Herb Jackson
3 – 28 May 2007
New Paintings
Herb Jackson
15 October – 13 November 2004
Drawings
Herb Jackson
5 October – 25 November 2001
Paintings and Drawings
Herb Jackson
October 1995
Biography
Herb Jackson has had over 150 one-person exhibitions in the U.S. and in England, Peru, Portugal and Canada. His work has been featured in group exhibitions throughout this country and abroad. Critic, Donald Kuspit, included Herb Jackson's paintings in the first exhibition of contemporary American art presented in the former Soviet Union. His work is in over 100 museum collections.
In 1999, Herb Jackson was given the North Carolina Award by the governor. This is the highest civilian honor bestowed by the state.
Herb Jackson's paintings are built up in many layers which are scraped off as they are being applied. Shapes and marks come and go as the painting develops to a hundred or more layers. The final outcome is the result of a process of discovery similar to the life experience itself.
Education
1970 MFA, University of North Carolina, Chapel Hill
1965-66 Philips Universitat, Marburg, West Germany
1967 BA, Davidson College, Davidson, NC
Selected Solo Exhibitions
2017 Paintings, Lee Hansley Gallery, Raleigh, NC
2017 A Door is not a Window, Gregg Art Museum, NCSU, Raleigh, NC
2017 Paintings and Drawings, Art Cellar, Banner Elk, NC
2017 Paintings, Hidell Brooks Gallery, Charlotte, NC
2015 New Paintings, Les Yeux du Monde, Charlottesville, VA
2015 Paintings, Lee Hansley Gallery, Raleigh, NC
2014 Form and Mystery, Art Cellar Gallery, Banner Elk, NC
2013 Veils, Claire Oliver Gallery, New York, NY
2012 Pure Abstraction, Lee Hansley Gallery, Raleigh, NC
2011 Firestorm in the Teahouse, Claire Oliver Gallery, New York, NY
2011 Excavations, Van Every Gallery, Davidson College, Davidson, NC
2010 Dream Point, Christa Faut Gallery, Charlotte, NC
2009 Come Up and See My Etchings, Davidson College, Davidson, NC
2009 The Family Jewels, Christa Faut Gallery, Charlotte, NC
2008 New Paintings, Davidson College, Davidson, NC
2008 Veronica's Veils, Art Space, Raleigh, NC
2007 Painting, Cline/Dale Fine Arts, Scottsdale, AZ
2007 Veronica's Veils – A Retrospective, McColl Center For Visual Art, Charlotte, NC
2007 Veronica's Veil Drawings, Christa Faut Gallery, Cornelius, NC
2006 New Paintings, Somerhill Gallery, Chapel Hill, NC
2006 Drawings From The Adriatic, Davidson College, Davidson, NC
2006 Small Oil Paintings," University of the South, Sewanee, Tennessee, 2006
"Small Paintings," Stetson University, Deland, FL 2006
"Paintings," Christa Faut Gallery, Cornelius, North Carolina, 2005
"Small Paintings," The Art Preserve, Charlotte, North Carolina, 2004
"Recent Paintings," Les Yeux du Monde, Charlottesville, VA, Oct 15 – Nov 13
"Veronica's Veils,"Christa Faut Gallery, Cornelius, North Carolina, 2003
"Small Oil Panel Paintings," Hickory Museum of Art, Hickory, North Carolina, 2003
"Herb Jackson: The Artist," Fayetteville Museum of Art, Fayetteville, North Carolina, 2002
"Large Drawings," Christa Faut Gallery, Cornelius, North Carolina, 2002
"Drawings," GSI Fine Art, Cleveland , Ohio, 2001
"Small Paintings," Parchman Stremmel Gallery, San Antonio, Texas, 2001
"Drawings,"Les Yeux Du Monde, Charlottesville, Virginia, 2001
"Oil Panels" Morris Gallery, Columbia, South Carolina, 2000
"Small Paintings," Greenville Museum of Art, Greenville, North Carolina, 2000
"Paintings," Christa Faut Gallery, Cornelius, North Carolina, 2000
"Paintings,"Lamar Dodd Art Center, LaGrange College, LaGrange, Georgia, 1999
"Paintings," Louisiana Tech University, Ruston, Louisiana, 1999
"New Paintings," Jerald Melberg Gallery, Charlotte, North Carolina, 1999
"Paintings," Somerhill Gallery, Chapel Hill, North Carolina, 1998
"Paintings and Works on Paper," Jerald Melberg Gallery, Charleston, South Carolina, 1998
"New Paintings," Les Yeux du Monde, Charlottesville, Virginia, 1998
"The Figure," Christa Faut Gallery, Davidson, North Carolina,1997
"Drawings From Hawaii," Jerald Melberg Gallery, Charlotte, North Carolina,1997
"New Drawings," Halsey Gallery, College of Charleston, South Carolina,1997
"Veronica's Veils," Cumberland Gallery, Nashville, Tennessee, 1996
"Paintings and Small Drawings," Jerald Melberg Gallery, Charlotte, North Carolina, 1996
"Recent Paintings," Somerhill Gallery, Chapel Hill, North Carolina, 1995
"Drawings and Paintings," Les Yeux du Monde, Charlottesville, Virginia,1995
"New Paintings," Parchman-Stremmel Gallery, San Antonio, Texas, 1995
"New Paintings," Jerald Melberg Gallery, Charlotte, North Carolina, 1994
"Small Paintings," Peden Gallery, Raleigh, North Carolina, 1993
"New Monotypes," Christa Faut Gallery, Davidson, North Carolina,1993
"Jackson Squared," Jerald Melberg Gallery, Charlotte, North Carolina, 1993
"Paintings," Fay Gold Gallery, Atlanta, Georgia,1992
"Veronica's Veil Series," Peden Gallery, Raleigh, North Carolina, 1991
"New Paintings, " Phyllis Weil Gallery, New York City, 1990
Allene Lapides Gallery, Santa Fe, New Mexico,1989
"Dream of the Minotaur," Jerald Melberg Gallery, Charlotte, North Carolina, 1988
"Drawings," Phyllis Weil Gallery, New York City, 1988
"Veronica's Veils," Judy Youens Gallery, Houston, Texas, 1988
"New Paintings," Fay Gold Gallery, Atlanta, Georgia, 1988
"Recent Paintings," Phyllis Weil Gallery, New York, New York, 1987
"Graphic Images, 1970-1986," Jerald Melberg Gallery, Charlotte, North Carolina, 1987
Cumberland Gallery, Nashville, Tennessee, 1987
"New Drawings," Gilliam Peden Gallery, Raleigh, North Carolina,1987
"Veronica's Veils," Fay Gold Gallery, Atlanta, Georgia,1986
Edmonton Art Gallery, Edmonton, Alberta, Canada, 1985
"Veronica's Veils," Jerald Melberg Gallery, Charlotte, North Carolina, 1985
"Animistic Vision," Phyllis Weil Gallery, New York, New York, 1984
"Tropical Fish," Jerald Melberg Gallery, Charlotte, North Carolina, 1984
Reading Public Museum, Reading, Pennsylvania, 1984
Fundacio Calouste Gulbenkian, Lisbon, Portugal, 1984
Phyllis Weil Gallery, New York, New York, 1983
National Academy of Sciences, Washington, D.C., 1983
Mint Museum of Art, Charlotte, North Carolina, 1983
Springfield Museum of Art, Springfield, Missouri, 1983
Asheville Museum of Art, Asheville, North Carolina, 1983
DBR Gallery, Cleveland, Ohio, 1983
Hodges/Taylor Gallery, Charlotte, North Carolina, 1983
Oxford Gallery, Oxford, England, 1982
Southeastern Center For Contemporary Art, Winston-Salem, North Carolina, 1981
Impressions Gallery, Boston, Massachusetts,1981
Phyllis Weil Gallery, New York, New York, 1981
Van Straaten Gallery, Chicago, Illinois, 1977
Impressions Gallery, Boston, Massachusetts, 1975
GROUP EXHIBITIONS (selected)
"Boom", American Printmaking 1960-2000, Mulvane Art Museum, Topeka, KS, 2016
"Gallery Group", Thomas Paul Fine Arts, Los Angeles, CA, 2015
"Today's Visual Language: Southern Abstraction, A Fresh Look," Mobile Museum of Art, AL, 2012
"Winter Group Exhibition," Thomas Paul Fine Arts, LA, CA, 2011
"Surface," Claire Oliver Gallery, NY,NY, 2011
"Antidote," Claire Oliver Gallery, NY,NY, 2010
"20th Anniversary Exhibition," Christa Faut Gallery, Charlotte, NC, 2009
"Peace Tower," Whitney Biennial, NY, NY, 2006
"The Elements," Louise Wells Cameron Museum of Art, Wilmington, NC, 2005
"X-posed," Somerhill Gallery, Chapel Hill, NC, 2005
"Material Matters," Community Gallery, Opera House, Earlville, 2004
"15×15," Christa Faut Gallery, Cornelius, North Carolina, 2003
Mercury Art Works, Athens, Georgia, 2002
"A Good Look," Thomas McCormick Gallery, Chicago, Illinois,2002
"Twelve Over Six," Greenville Museum of Art, Greenville, North Carolina,2001
Vanessa Suchar Fine Art, London, England, 2000
"20th Century North Carolina Masters," Lee Hansley Gallery, Raleigh, North Carolina, 2000
Museo Del Vidrio, Monterey, Mexico, 1999
"Vitreographs," Memorial Art Gallery, University of Rochester, Rochester, NewYork 1998
"Abstracting The Elements of Art," Utah Museum of Fine Arts, Salt Lake City, 1998
"Pinned To The Wall," Parchman Stremmel Gallery, San Antonio, Texas ,1997
Taylor- Jenson Fine Arts, Palmerston North, New Zealand,1997
Portland Art Museum, Portland, Oregon,1997
"Celebrating Southern Art," Morris Museum of Art, Augusta, Georgia,1997
"Come Shining," Poet's Theater, New York, New York, 1997
Shanxia Government Art Gallery, Xian, China, 1996
"Transparent Motives," New Orleans Museum of Art, Louisiana, 1995
"Luminous Impressions," The Kala Institute, Berkeley, California, 1994
"Artists Who Teach," J Rosenthal Gallery, Chicago, Illinois, 1992
"East Tennessee Collects," Knoxville Museum of Art, Knoxville, Tennessee, 1991
"Art of Color," Samuel P. Harn Museum of Art, Gainesville, Florida, 1990
"Painting Beyond The Death of Painting," Kuznetsky Most Exhibition Hall, Moscow,
Soviet Union, 1989
Lorenzelli Arte, Milan, Italy, 1989
"Luminous Impressions," Mint Museum of Art, Charlotte, North Carolina, , 1987
"Southern Abstraction," Raleigh City Gallery, Raleigh, North Carolina, , 1987
"Tenth Anniversary, Secca Seven," Southeastern Center for Contemporary Art, Winston Salem, North Carolina, , 1987
"Drawings'" Knight Gallery, Spirit Square Art Center, Charlotte, North Carolina, , 1985
"Layering- An Art of Time and Space," Albuquerque Museum of Art, Albuquerque, New Mexico, , 1985
"North Carolina Visual Arts Award Exhibition," SECCA, Winston-Salem, North Carolina, 1985
"A Portrait of the South," Palazzo Venezia, Rome, Italy, 1984
"Experimental Drawing," Schwayer Art Gallery, University of Denver, Denver Colorado, 1984
"On The Leading Edge – Cross Currents In Contemporary Art," General Electric Headquarters, Fairfield, Connecticut, , 1983
"SECCA Southeastern Seven VI," Southeastern Center for Contemporary Art, Winston-Salem, North Carolina, , 1983
"Transpersonal Images," VIII International Conference, International
Transpersonal Association, Davos, Switzerland, 1983
"Paintings of the 70′," World's Fair, Knoxville, Tennessee, , 1982
"Serial Imagery," Huntsville Museum of Art, Huntsville, Alabama, ,1982
"Childe Hassam Purchase Fund Exhibition," American Academy and
Institute of Arts and Letters, New York, New York, 1981,1987
"Abstract Art on Paper," Impressions Gallery, Boston, Massachusetts, 1980
"XV International Sao Paulo Bienal," Sao Paulo, Brazil,1979
"6th British International Print Biennale," Bradford, England, 1979
"100 New Acquisitions," The Brooklyn Museum, Brooklyn, New York, 1978
USIA Touring Exhibition, Japan, 1977
"35 Artists of the Southeast," The High Museum of Art, Atlanta, Georgia, 1976
FELLOWSHIPS
SECCA Southeastern Seven Fellowship, 1981
North Carolina Visual Arts Fellowship, 1984
NEA/SAF Fellowship, 1986
Boswell Family Fellowship, 2007
PUBLIC COLLECTIONS
Achenbach Foundation, San Francisco, CA
Alberta University, Alberta, Canada
Albuquerque Museum of Art, Albuquerque, NM
Art Bank Collection, US Department of State, Washington, DC
Asheville Museum of Art, Asheville, NC
Babson Institute, Wellesley Hills, MA
Baltimore Museum of Art, Baltimore, MD
Beloit College, Beloit, WI
Boise Gallery of Art, Boise, ID
Boston Public Library, Boston, MA
Bowdoin College, Brunswick, ME
British Museum, London, England
Brooklyn Museum, Brooklyn, NY
California State College, Fullerton, CA
California State University, Chico, CA
Carroll Reece Museum, Johnson City, TN
Cheekwood Fine Arts Center, Nashville, TN
Chicago Art Institute, Chicago, IL
Cleveland Museum of Art, Cleveland, OH
Columbus Museum of Art. Columbus,GA
Davidson College, Davidson, NC
Dayton Art Institute, Dayton, OH
Drake University, Des Moines, IA
Drury College, Springfield, MO
E.B. Crocker Art Gallery, Sacramento, CA
Eckerd College, St. Petersburg, FL
Fayetteville Museum of Art, Fayetteville, NC
Florida State University, Tallahassee, FL
Foundation for the Carolinas, Charlotte, NC
Goddard Center for the Visual Arts, Ardmore, OK
Greenville County Museum of Art, Greenville, SC
Gulbenkian Museum, Lisbon, Portugal
Hickory Museum of Art, Hickory, NC
High Museum of Art, Atlanta, GA
Honolulu Academy of Arts, Honolulu, HI
Huntsville Museum of Art, Huntsville, AL
Indianapolis Museum of Art, IN
Indiana State University, Evansville, IN
Kalamazoo Institute of Art, Kalamazoo, MI
Kohler Art Center, Sheboygan, WI
Knoxville Museum of Art, Knoxville, Tennessee
Lafayette College, Skillman Library, Easton, PA
Library of Congress, Washington, DC
Louise Wells Cameron Museum of Art, Wilmington, NC
Madison Arts Center, Madison, WI
Manhattan College, Riverdale, NY
Mesa Community College, Mesa, AR
Broad Museum, Michigan State University, East Lansing, MI
Minneapolis Institute of Art, Minneapolis, MN
Minnesota Museum of Art, St Paul, MN
Mint Museum of Art, Charlotte, NC
Morris Museum of Art, Augusta, GA
Museum of Fine Arts, Boston, MA
Museum of Fine Arts, Springfield, MA
Muskegon Art Museum, Muskegon, MI
Nasson College, Springvale, ME
National Academy of Sciences, Washington, DC
New York Public Library, New York, NY
Newark Public Library, Newark, NJ
North Carolina Museum of Art, Raleigh, NC
North Carolina School of Law
North Dakota State University, Fargo, ND
Northern Arizona University, Flagstaff, AR
Northern Illinois University, Dekalb, IL
Northwood Institute, Dallas, TX
Norton Gallery of Art, West Palm Beach, FL
Ogden Museum of Southern Art, New Orleans, LA
Pennsylvania State University, State College, PA
Philadelphia Museum of Art, Philadelphia, PA
Portland Museum of Art, Portland, OR
Ringling Museum, Sarasota, FL
Rockford College, Rockford, IL
Rutgers University, New Brunswick, NJ
St. Lawrence University, Canton, NY
Samuel P. Harn Museum, Gainesville, FL
San Jose State College, San Jose, CA
Skidmore College, Saratoga Springs, NY
Smith College, North Hampton, MA
Smithsonian Institute, Washington, DC
Southern Illinois University, Edwardsville, IL
Southern Utah State College, Cedar City, UT
Springfield Art Museum, Springfield, MO
Stetson University, Deland, FL
Syracuse University, Syracuse, NY
United States Information Agency, Japan
University of California, Los Angeles, CA
University of California, Riverside, CA
University of Georgia, Athens, GA
University of Iowa, Iowa City, IO
University of Maine, Orono, ME
University of Missouri, Columbia, MO
University of Nebraska, Lincoln, NB
University of Nevada, Reno, NV
University of North Carolina, Chapel Hill, NC
University of Oklahoma, Norman, OK
University of South Dakota, Vermillion, SD
University of Virginia, Charlottesville, VA
University of West Virginia, Morgantown, WV
University of Wisconsin, Sheboygan, WI
Utah Museum, Salt Lake City, UT
Victoria and Albert Museum, London, England
Western Carolina University, Cullowhee, NC
Westminster College, New Wilmington, PA
Whitney Museum of Art, New York, NY
Wittenberg University, Springfield, Ohio
AWARDS
The North Caroliniana Society Award, 2015
AC Award, 2008
Hunter-Hamilton Love of Teaching Award, 2003
The North Carolina Award, 1999