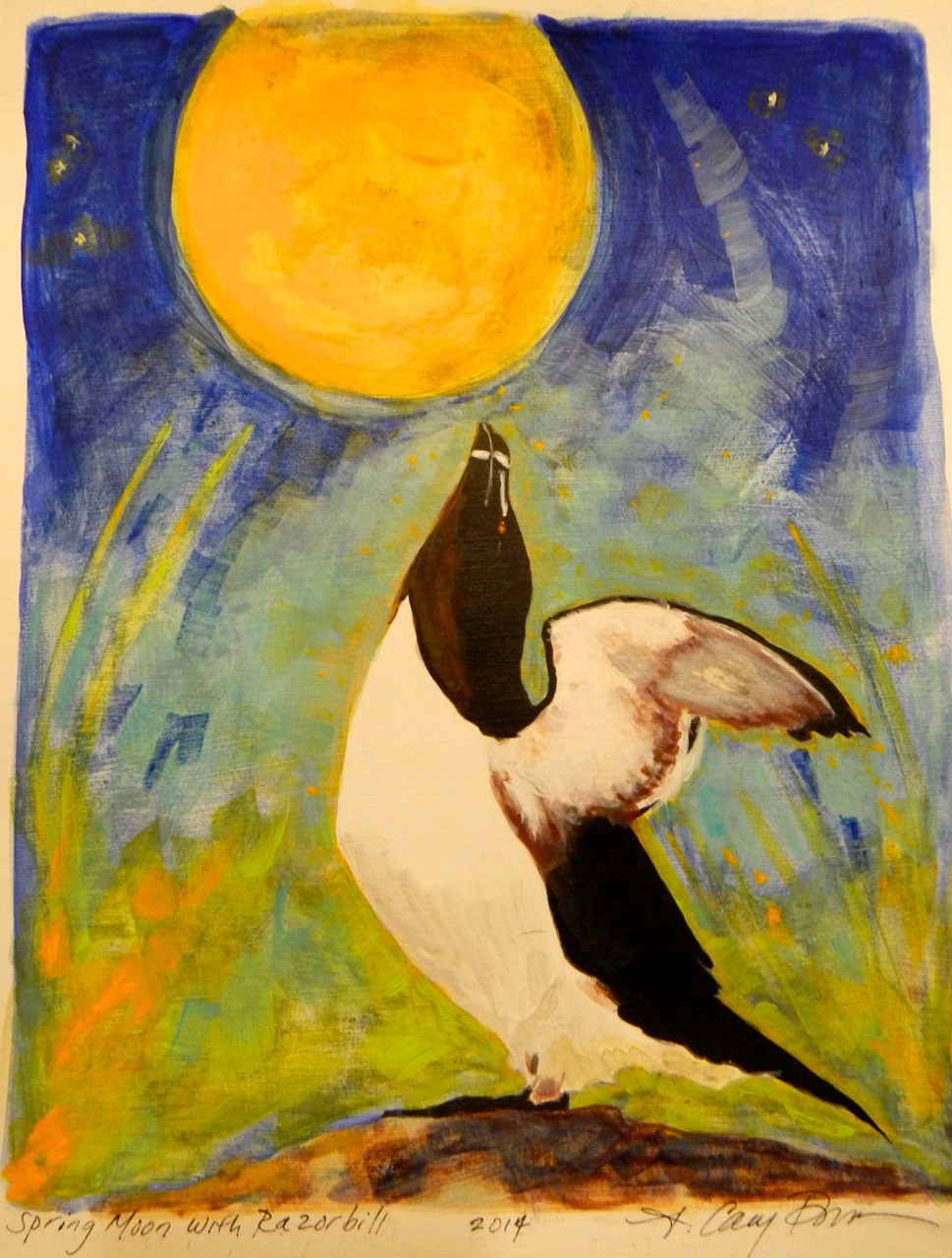 Spring Moon with Razorbill, 2014. Acrylic on paper, 10 x 8″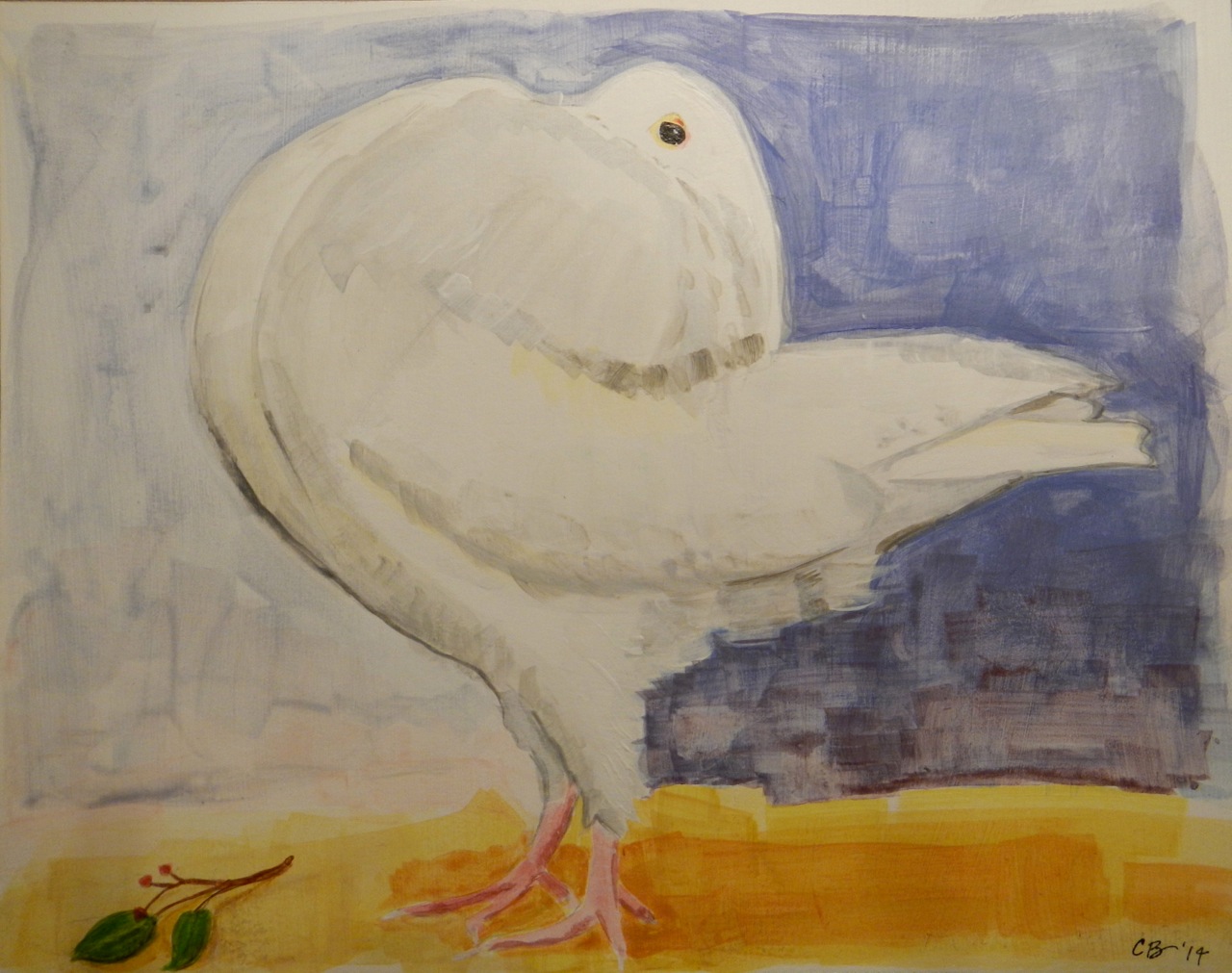 Hen (Amsterdam Ballon Blower) at Dawn, 2014. Acrylic on paper, 8 x 10″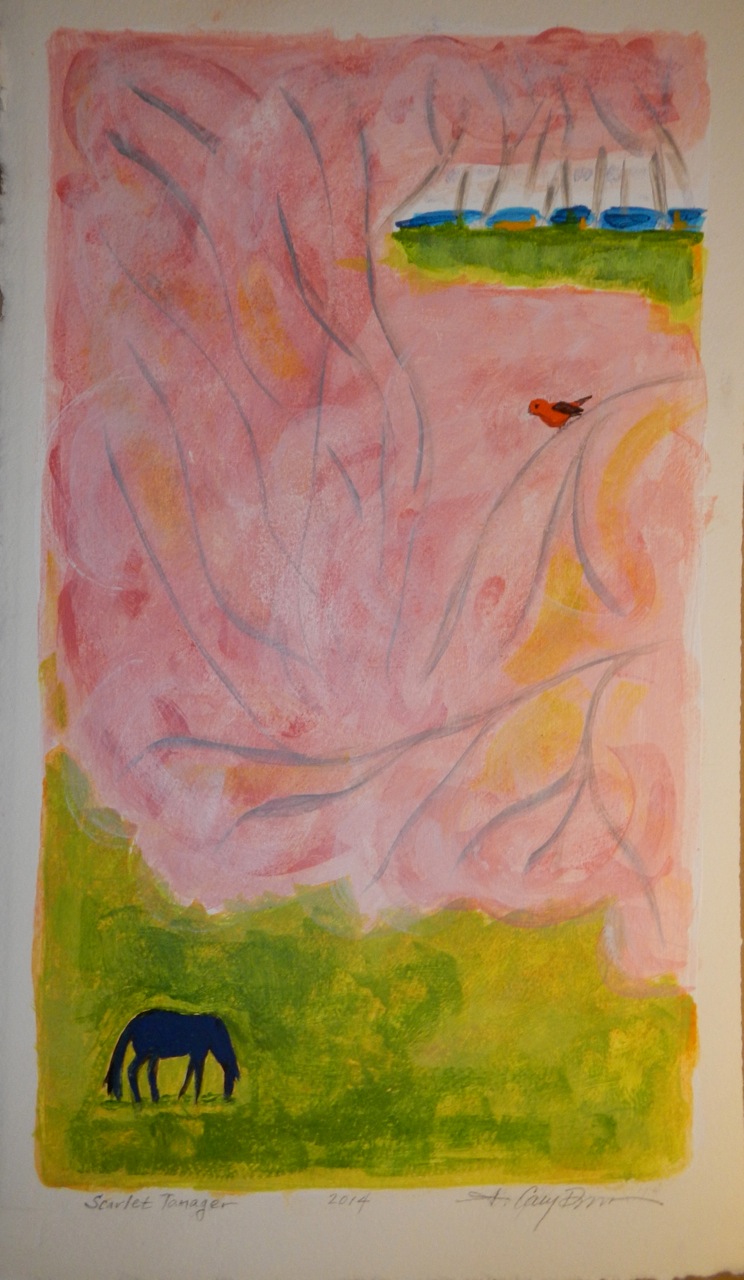 Scarlet Tanager in a Cherry Tree, 2014. Acrylic on paper, 18 x 11″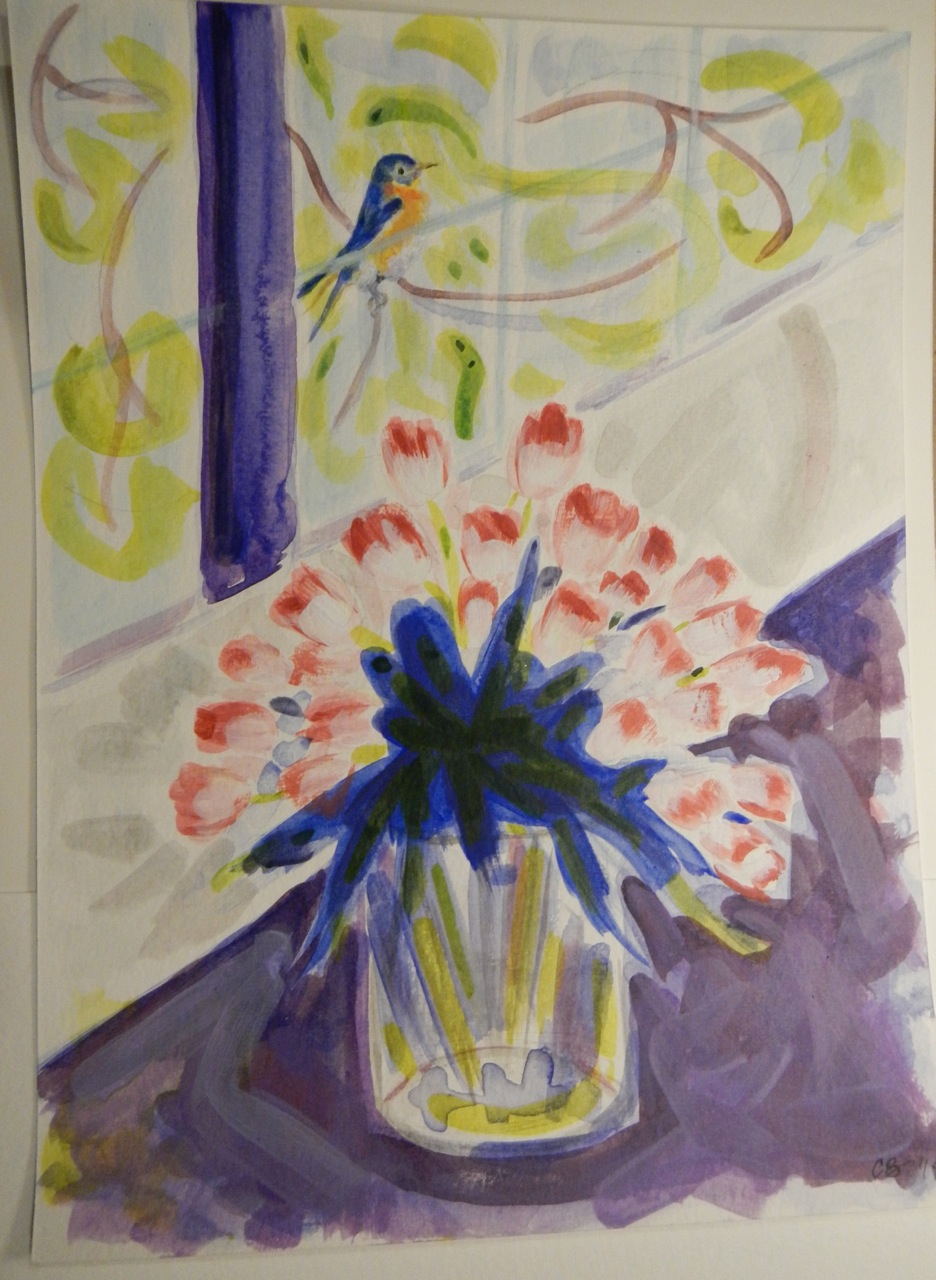 Bluebird, 2014. Acrylic on paper, 10 x 8″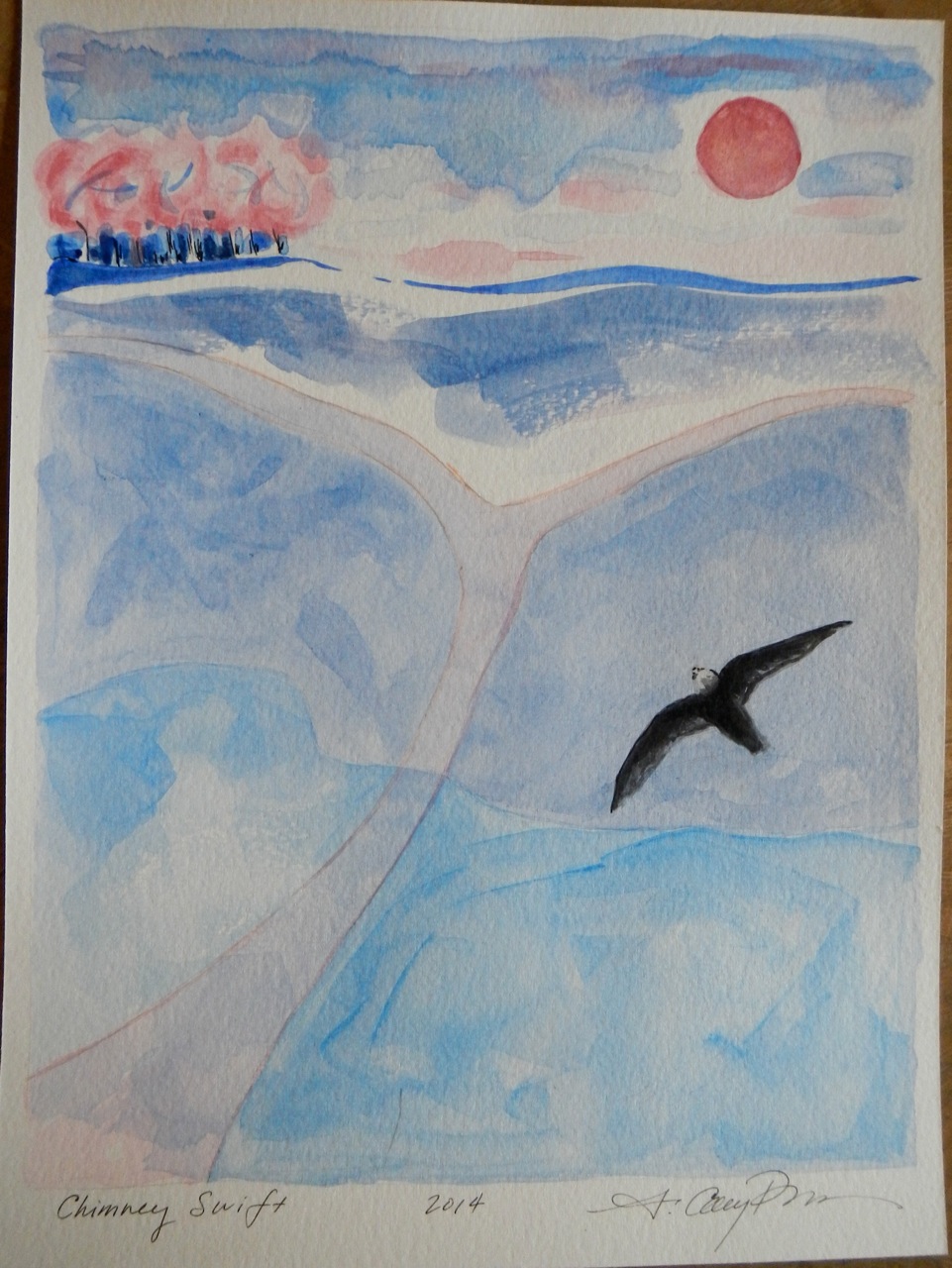 Chimney Swift, 2014. Acrylic on paper, 8 x 10″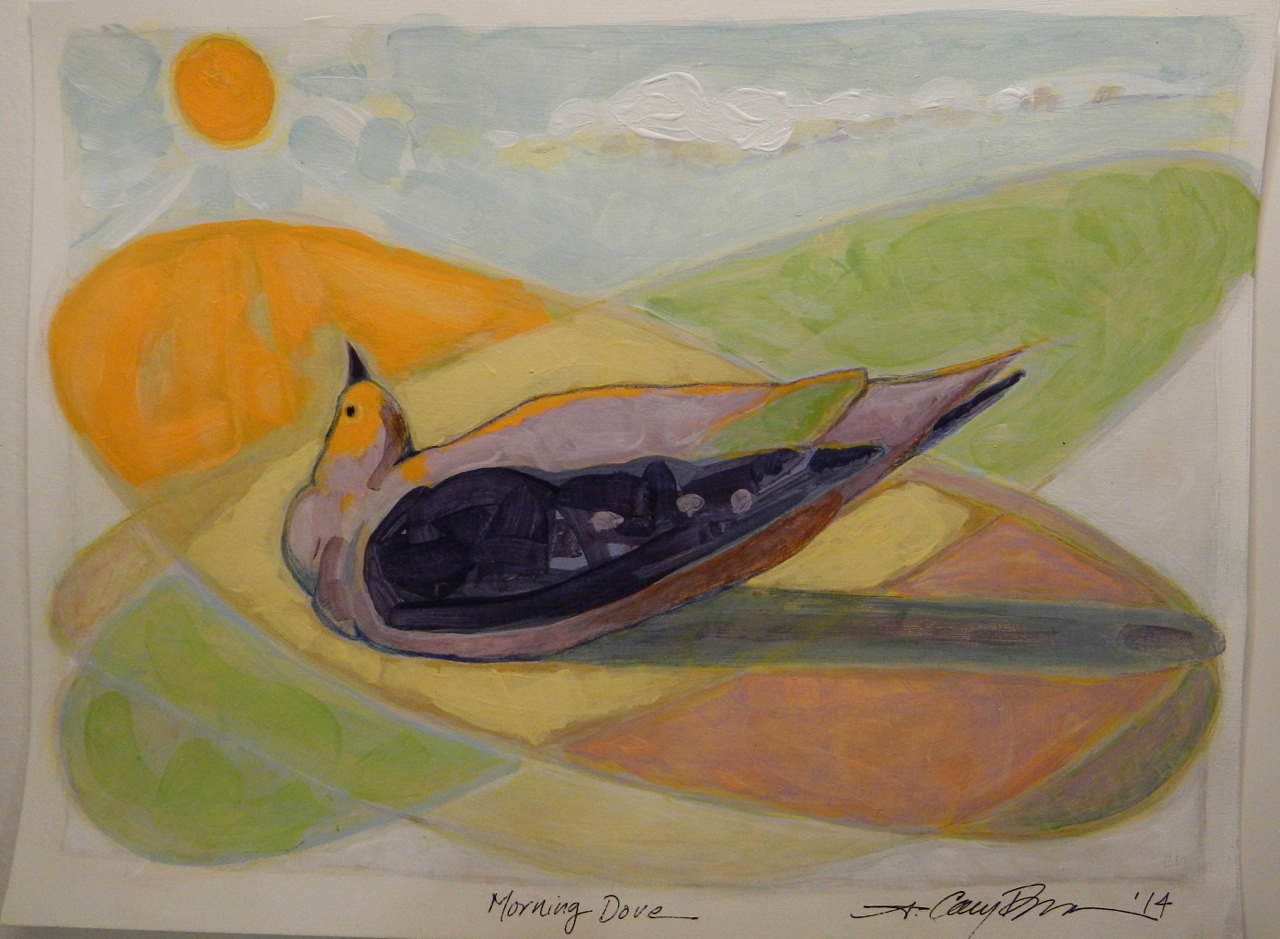 Morning Dove, 2014. Acrylic on paper, 8 x 10″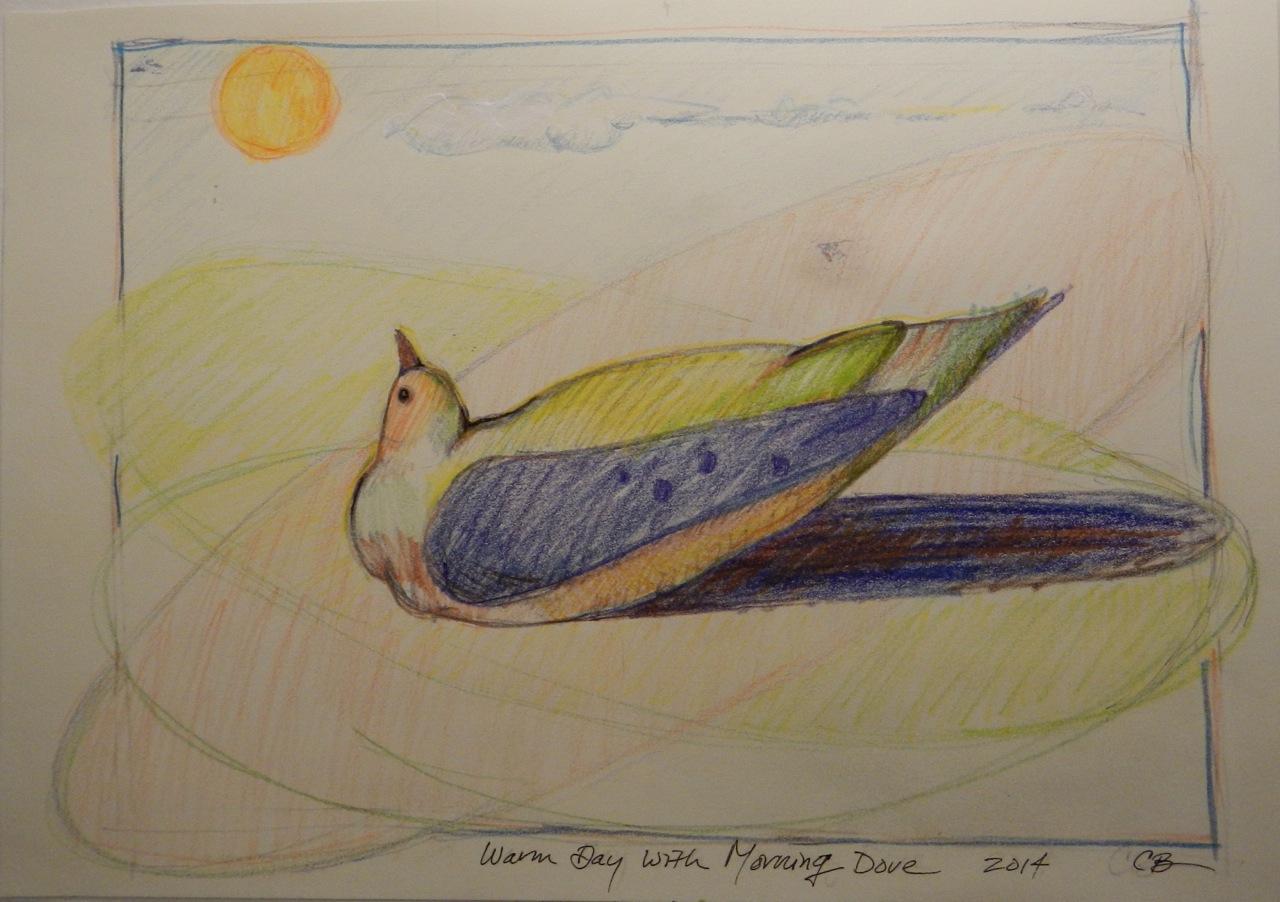 Warm Day with Morning Dove, 2014. Colored pencil on paper, 8 x 10″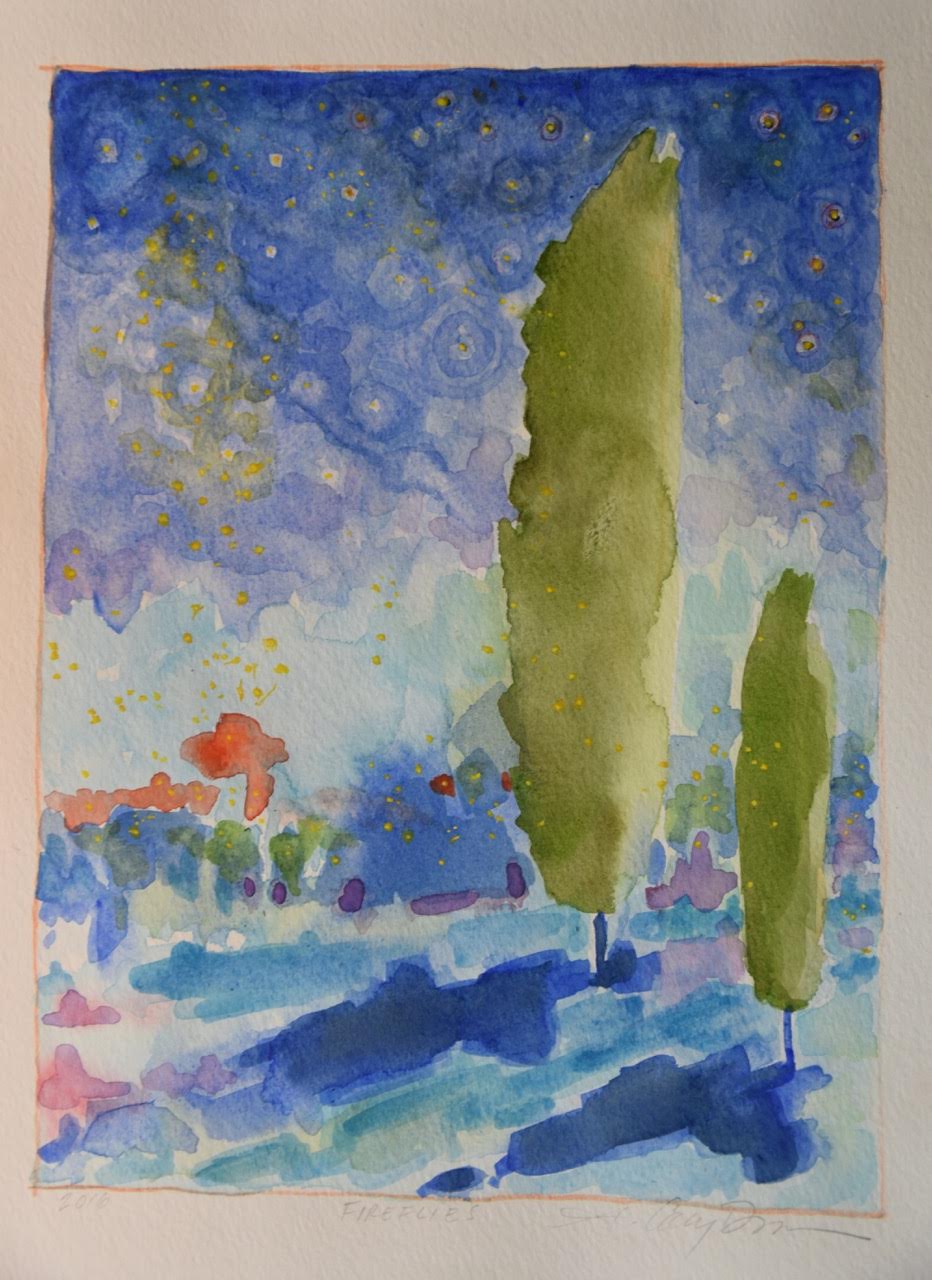 Fireflies, 2016. Watercolor on paper, 14 x 11″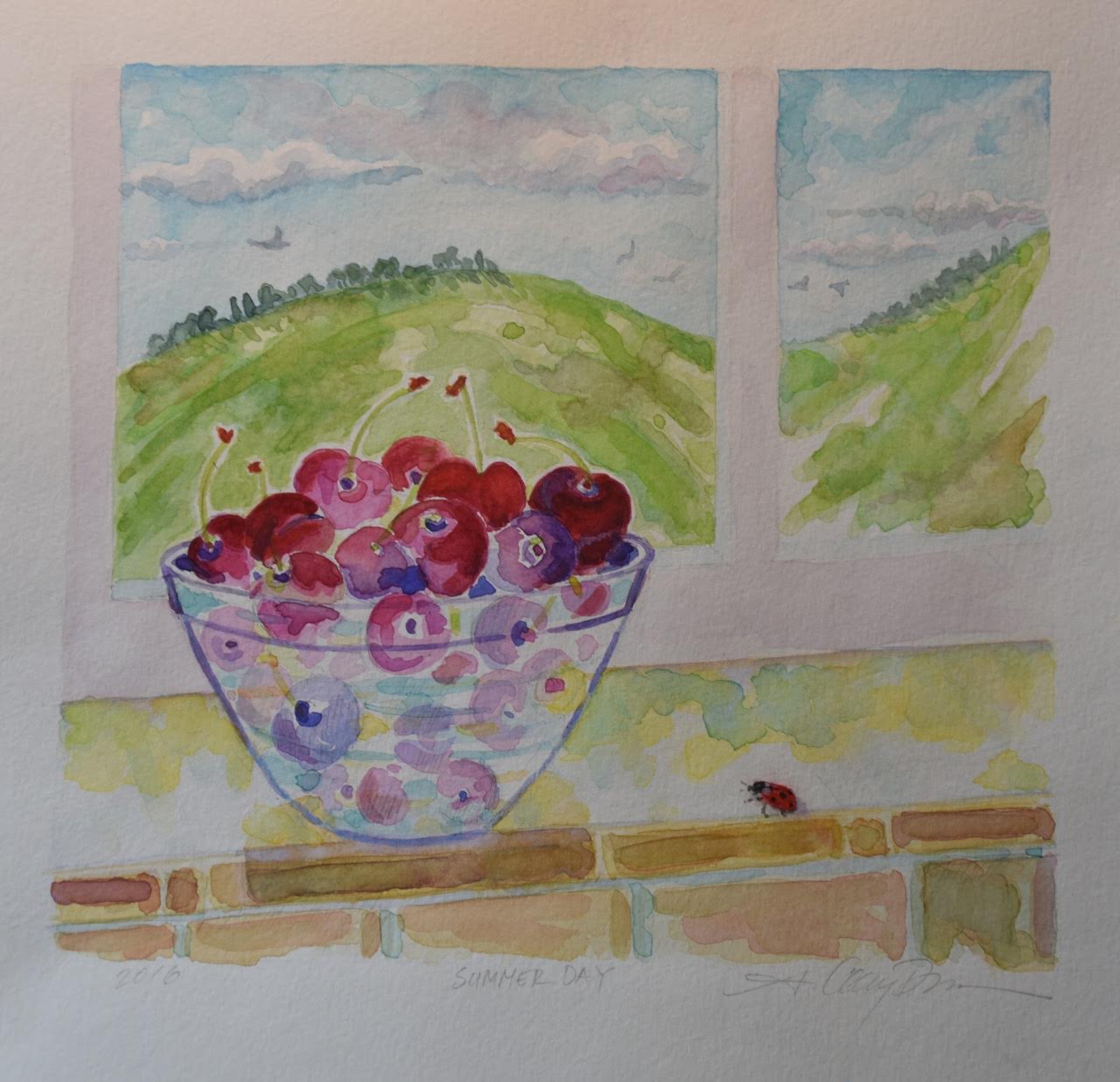 Summer Day, 2016. Watercolor on paper, 12 x 12″
Summer Light
15 July – 21 August 2016
Exhibition page >
Visions of Spring
Elizabeth Bradford, Cary Brown, Lou Jordan, Ann Lyne, John McCarthy, Priscilla Whitlock
21 February – 30 March 2014
Exhibition page >
Minds Wide Open: Women in the Arts
12 March – 18 April 2010
Exhibition page >
Celebrating Women in the Arts
Women's History Month
Featuring a Group of 37 Women Artists
Exhibition page >
Artist portfolio
Education
1984 BA, University of Virginia, Charlottesville, VA
1982 Rhode Island School of Design, Providence, RI
1987 AAS, Parson's School of Design, New York, NY
1988 Art Students League, New York, NY
1989-92 The New York Academy of Art, New York, NY
Museum exhibition
Alumni in the Arts, University of Virginia Art Museum, Charlottesville, VA
One-person exhibitions
The Birds Sang Light and Other Messages of Wonder (a traveling show): Martha Jefferson Hospital in Charlottesville, the National Institutes of Health in Bethesda, and the Washington Cancer Institute in D.C. (Lillian Fitzgerald, curator).
Natural Elements, The Thomas Jefferson Center for the Protection of Free Expression, Charlottesville, VA
Selected group exhibitions
2016 Summer Light, Les Yeux du Monde Gallery, Charlottesville, VA
2014 Visions of Spring, Les Yeux du Monde Gallery, Charlottesville, VA
2006 Celebrating Women in the Arts & Women's History Month, FOCUS Women's Resource Center in cooperation with Les Yeux du Monde Gallery, Charlottesville, VA
2004 Small Treasures, Les Yeux du Monde Gallery, Charlottesville, VA
2003 Artists Among Us, Second Street Gallery, Charlottesville, VA
2003 The H'Art Show, Les Yeux du Monde Gallery, Charlottesville, VA
2001 IX Artists, Les Yeux du Monde Gallery, Charlottesville, VA
2000 The Winter Group Show, New Dominion Bookshop, Charlottesville, VA
2000 Hindsite Fore-site: Painting in the year 2000, Les Yeux du Monde Gallery, Charlottesville, VA
1999 Moving into the Millennuim: Darkness, Les Yeux du Monde Gallery, Charlottesville, VA
1999 Small Works II, Mooney Gallery, Charlottesville, VA
1999 Fall Group Show, Mooney Gallery, Charlottesville, VA
1998 Moving into the Millennium: Lightness, Les Yeux du Monde Gallery, Charlottesville, VA
1998 The Winter Group Show, New Dominion Bookshop, Charlottesville, VA
1997 Summer Show, Les Yeux du Monde Gallery, Charlottesville, VA
1996 Summer Solstice Show, Les Yeux du Monde Gallery, Charlottesville, VA
1996 Legal Spaces, Places, and Faces, C.B. Nunley Law Office, Charlottesville, VA
1996 Holiday Art Show, Gallery Neo, Charlottesville, VA
Other
Cover Art: "Julep", watercolor for The Mint Julep book by Richard B. Harwell, University of Virginia Press, Charlottesville, VA
Latter, Ruth. "With Students Gone, UVa's Alumni Draw Attention", The Daily Progress, 24 May 2007.
Selected collections
Laura Lee and Steve Wilson
Betsy Sussler
Martha Jefferson Hospital
Mr. & Mrs. J. Stewart Byran, III, Richmond, VA
Charlotte Minor, Richmond, VA
Dr. & Mrs. Donald Innes, Charlottesville, VA
Brown-Forman Corporation
Mr. and Mrs. James C. Collins
Nature is a setting that fits equally well a comic or a mourning piece.
-Ralph Waldo Emerson
I was lucky to grow up on a farm in Kentucky where I was free to explore nature at my whim. Whether I was climbing beech trees, scaling fossil beds, searching for turtles, gazing at the constellations, my head was always filled with the magic of nature.
I began to draw at an early age with one of my grandmothers (also a painter), who is a naturalist so our subjects were often things from the woods and on the farm: giant poplars, horses, donkeys, flowers, leaves, clouds, and so on. She taught me that there was color in a shadow. Sometimes, I looked so hard I thought I could see wind.
After graduating in 1984 from the University of Virginia with a BA in art history and studio art, I moved to New York City to study portrait painting at the New York Academy of Art. During that time, I desperately missed the country so I began painting made-up landscapes in my studio. When my husband and I moved to Charlottesville in 1993, I was delighted to return to nature. The glimmering light and enchanting spirit of Charlottesville, especially in the Spring, once again captivated me and I began to paint en plein air in the style of my professor, Richard Crozier. My mediums were pretty much oils and the occasional watercolors.
After a life-threatening experience in 2005 involving cancer of the appendix, I moved inward. I felt a need to take a closer look — a need to really feel and see life and death. Instead of painting vast landscapes, I pushed into it. I began to read a lot of poetry. My appetite grew for that big question: What is this all about? What is reality all about? What's going on above us, below us, on the surface of an orchid, in the heart of a woodpile, in the mind of a bird?
So began my journey with this new work. Having studied photography at U.Va, I was drawn to the medium again when contemplating reality. The Polaroid emulsion process (explained in detail below) was a perfect match: it enhanced the ephemeral qualities, the elements of surprise and humor in nature. It allowed me to create wind and to be able to bend wallpaper, which seemed then to take on layers of reality infused with the strangeness of poetry that help things meet in that middle area of chaos and order, where truth — perhaps — hovers. I yearned to freeze all of that so I could study it. Of course, gradually the work began to take on a life of its own.
Through the process I began to consider the spirit in these objects — the light, the love, the energy, the beauty, the magic– in essence, the truth. I began by rolling out the Polaroid image(s) on paper. Then I'd sit back and let the piece speak to me. A story evolved: I would see it, hear it, and then go in with color, form, and sometimes words and bring the piece alive.
After this I began to comprehend Emerson, Eiseley, and Dillard, all authors whose words were meaningful to me. I followed their assertion to really, really look and be a conscious witness. In this way so much more will be given to you.
I kept exploring and came to the woodpile of an old ash tree we had to cut down on our farm. Here I mourn her in two pieces. In the last image, The Moo Piece, I saw through a child's eyes, where the innocence is, real intuition. I began to think of dreams, time travel, and the cosmos, then returned to my pot of boiling elements: wind and clouds bubbling in water, along with wood piles, donkeys, cows, flowers, birds, land, dust, and the laws of nature. I began to laugh, and it was then I knew I had been restored — my soul had been fed and magically returned to its great capacity for joy.
…man himself must be his last magician. He must seek his own way home.
-Loren Eiseley